Florida Man Draws Gun on Black Teens at MLK Day Event, Calls Them N-Word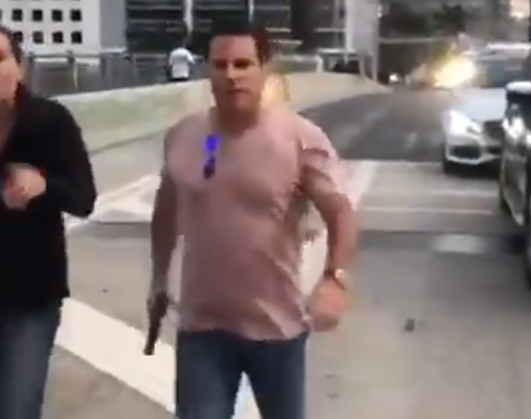 A Florida man was arrested Monday after pulling a gun and making racist remarks at people taking part in a rally during Martin Luther King Jr. Day.
Footage of the incident spread quickly across social media yesterday after being posted by a campaigning group called Dream Defenders. It occured on Brickell Avenue, Miami.
Read more: Florida deputy who slapped wheelchair-bound inmate is fired
"Every year, Black Miamians ride bikes, ATVS, motorcycles on MLK Day as part of 'Bikes Up, Guns Down' to address gun violence in our neighborhoods," the activist group wrote online, alongside the footage. "This video was captured today by one of our members."
Multiple videos—posted to Twitter and Instagram—showed the heated confrontations. According to the Miami New Times, one participant was 11 years old. At the same time, others were protesting development at a public housing complex, the newspaper reported.
It appeared that tensions spiked after traffic became delayed or blocked.
"You just ran over me, you just ran over my foot with your tire," a woman is seen screaming at a boy in one video. A man holding a gun approaches from behind and confronts the riders.
"Get the fuck out of here you fucking piece of shit," the armed man is heard saying. "You fucking losers. You fucking stupid n*****s, I swear to God. You are dumb-ass fucking n*****s."
Warning: Video contains racial slurs and offensive language.
A second video posted online showed the same woman in another altercation. Based on her remarks, she appeared frustrated that bikes were blocking the road in front of her car.
A third recording showed the man repeatedly shouting racist slurs from his vehicle. He was later identified as Mark Allen Bartlett, 51, local media outlet WSVN reported. He was charged with carrying a concealed weapon, according to the City of Miami Police. The Dream Defenders Twitter profile later complained that the charge was "a slap on the wrist."
More than 30 riders were arrested at the event, according to WPLG. The local news outlet reported that some riders hassled drivers, ran red lights and there was at least one crash, as a bike collided with a car. The Miami-Dade Police Department confirmed reports via Twitter updates posted throughout the day.
"As of 6PM today, 32 ATVs/Dirt bikes have been towed, four firearms seized, 12 citations issued and 13 arrests have been made as a result of our traffic enforcement efforts," police wrote, adding: "DO NOT drive unauthorized vehicles on roadways!"
Earlier, Florida police had warned: "It is illegal to operate an off-highway vehicle in a careless or reckless manner that endangers or causes injury or damage to another person or property."