Florida Man Tries to Burrow Into Gopher Tortoise Nest to Hide From Police, Found 'Throwing Dirt on Himself'
A Florida man who was arrested this week after he attempted a home break-in and faced criminal charges for endangering a threatened species after he attempted to hide inside the nest of a protected animal, authorities say.
Justin Buchler, 36, of Keystone Heights, was apprehended on Wednesday after a K-9 unit arrived at the scene of the incident and allegedly found him trying to burrow into a nesting area of a gopher tortoise. He was "throwing dirt on himself" in an attempt to conceal himself, officials said.
Deputies responded to a home in Melrose after a member of the someone called about a possible burglary, CBS12 reported.
When police arrived, the officers found the residence and its storage areas had been plundered and soon encountered two men they suspected were involved.
As deputies continued to investigate the scene, a man approached the property from a wooded area and was swiftly stopped because he matched the description given by the caller, police said. When searched, he was found to have keys to a BMW that was in the garage of the property.
The suspect, later identified as Justin Harris, 28, of Melrose, also had a set of keys to a Ford truck in his possession. It was then a second sheriff's deputy and K-9 arrived at the location, finding Buchler trying to invade the nearby tortoise's legally-protected home, seemingly to evade detection.
In the state of Florida, the gopher tortoise is deemed threatened and is illegal to kill, harass or destroy the species, their eggs or burrows, the sheriff's office confirmed.
As deputies continued to look around the home, the homeowner arrived and confirmed some items appeared missing, including a dirt bike, jewelry, and professional RC cars totaling more than $30,000. Stolen goods were later found in the suspects' vehicle, police said.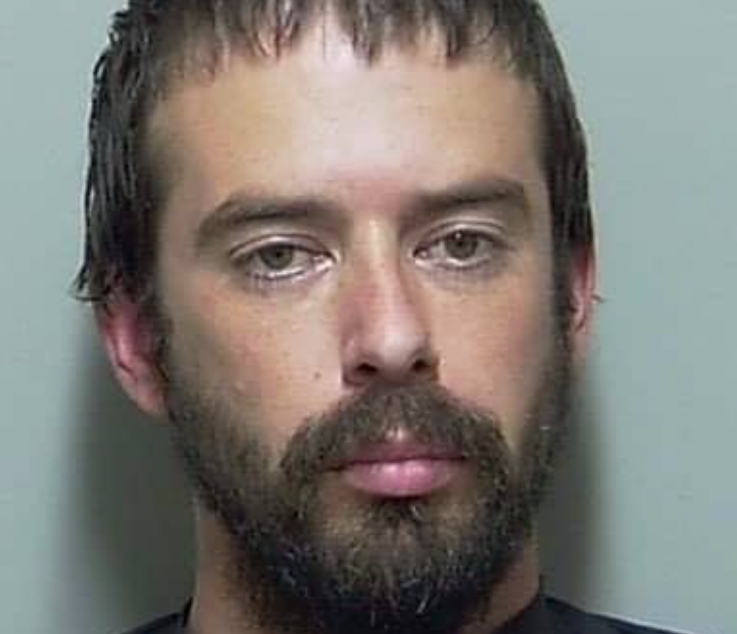 Justin Buchler, 36, of Keystone Heights, allegedly tried burrowing into a nesting area of a gopher tortoise, an endangered species.
Putnam County Sheriff's Office
During a search of that vehicle, deputies also found a firearm, painkillers, and a substance that later tested positive for methamphetamine.
Buchler was being held on $36,000 bond after being arrested and charged with possession of a weapon by a convicted felon, methamphetamine possession, two counts of larceny, two counts of drug possession, and two counts of endangering a threatened species.
His alleged accomplice, Harris, was held on $33,000 bond at the Putnam County Jail after being charged with possession of a weapon by a convicted felon, two counts of burglary, two counts of burglary and damaging property. Court dates were not immediately known.
The Florida Fish and Wildlife Conservation Commission (FWC) says the tortoise can "live 40 to 60 years in the wild, though captive tortoises may live 90+ years." Its breeding season occurs between March and October. It is currently federally listed as threatened under the Endangered Species Act.
The FWC explains in a fact-sheet, "The life of a gopher tortoise revolves around its burrow(s) where gopher tortoises spend up to 80% of their time. Burrows average 15 feet long and 6.5 feet deep, though they have been documented reaching up to 40 feet long and 10 feet deep."
It was not immediately clear if any gopher tortoise had been injured during the incident. The Putnam County Sheriff's Office Public Information Office has been contacted for additional comment.