Florida Man Tries to Fly Home with a Military-style Rocket-propelled Grenade Launcher—Fails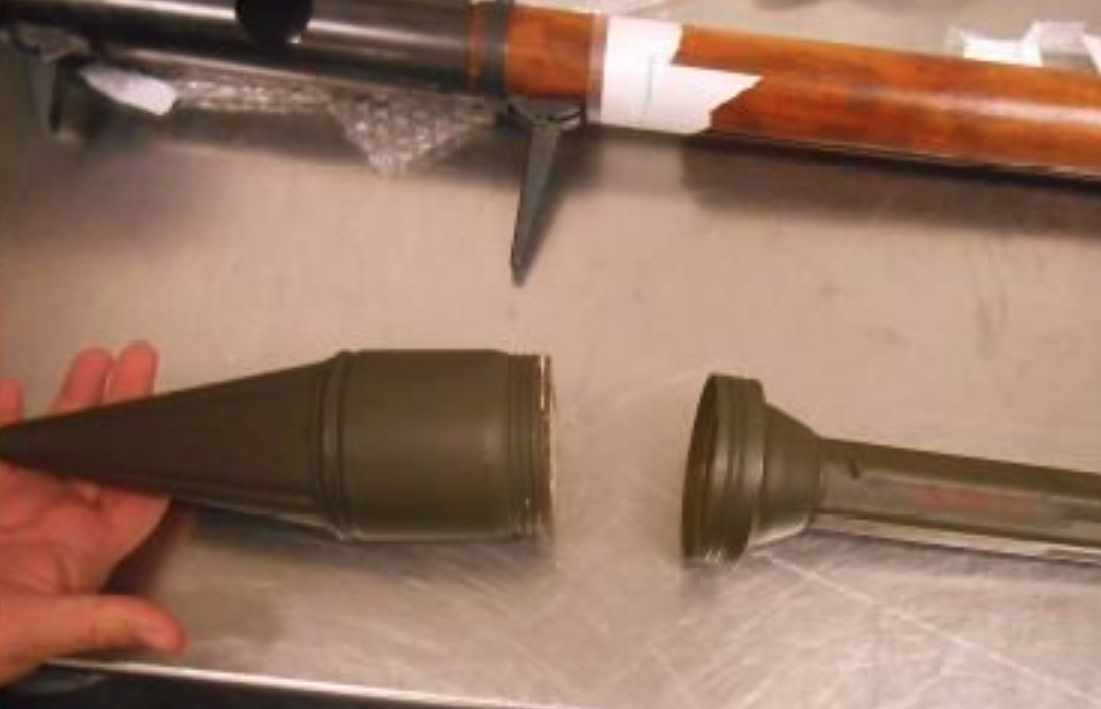 A Florida man had his replica grenade launcher confiscated at a Pennsylvania airport this week, the U.S. Transportation and Security Administration has said.
The man's bag triggered an alarm as it passed through the checked baggage security screening at Lehigh Valley International Airport on Monday, the agency said in a release yesterday. The bag appeared to hold "unassembled parts of a rocket propelled grenade launcher and grenade."
The luggage also contained the item's barrel, trigger and sights. The man—whose name was not released—was confirmed to be a resident of St. Augustine. He was found at the airport departure gate while traveling to Orlando Sanford International Airport and detained by police. Luckily, the weapon was not in a functioning condition.
"Upon closer inspection, it was determined that the various components of the device could be assembled, but fortunately the device was not a functioning launcher and the grenade itself was determined to be a realistic replica," said the TSA, a division of homeland security.
"The traveler told officials that he believed the item could be brought on the flight in a checked bag. Contrary the passenger's belief, however, no realistic or replica weapons are permitted to be brought onto airplanes," it added. The items were seized and the man was released.
TSA public affairs spokesperson Lisa Farbstein tweeted some images of the suspected weapon yesterday. "When assembled, the launcher was determined to be non-functioning and the grenade an inert replica. (Thank goodness!)," she wrote.
The TSA says any passengers who bring weapons and replicas to the airport without meeting strict guidelines will be subjected to possible penalties of up to $13,000.
Farbstein told Newsweek today via email that any form of grenades are banned in both checked and carry-on bags. All firearms and ammunition must be fully secured before being checked.
"You may transport unloaded firearms in a locked hard-sided container as checked baggage only," the federal agency states online. "Declare the firearm and/or ammunition to the airline when checking your bag at the ticket counter. The container must completely secure the firearm from being accessed. Locked cases that can be easily opened are not permitted."
It says that firearm parts including magazines, clips, bolts and firing pins, are prohibited in carry-on baggage but may be transported in checked baggage. It adds that replica firearms, including firearm replicas that are toys, may be "transported in checked baggage only."
But replica grenades are always a strict no-no, according to a blog post published by the TSA detailing some items confiscated from passengers over the period of a week.
It read: "I don't think I'll blow your mind when I tell you grenades, real or fake, aren't allowed in your carry-on or checked bags. Whenever we find grenades during security screening, our TSA officers need to call on our explosives specialists to evaluate them to determine if they are real or inert. This takes time and can cause security to slow down or stop all together."
Between February 18 and 24 this year, the TSA said its officers screened 15.6 million passengers and found 83 firearms in carry-on bags. Of the 83, 75 were loaded and 30 had a round chambered. Items included guns, knives and even a cane sword.