Florida Man Accused of Drugging, Sexually Assaulting and Leaving for Dead Girl, 15, Before Posting Video on Social Media
A Florida man was arrested on Wednesday after drugging and sexually assaulting a 15-year-old girl before posting a graphic video of her to social media, police say.
Jorge Martinez, age 18, gave the victim Oxycodone after meeting her at a party that she was hosting on Monday, CBS Miami reported. After they went to another home, in Miramar, the teenager passed out from the drug and remains in a critical condition, police investigators said.
Friends of the victim—who is not being named—said they spotted a live stream on Instagram which showed her on a couch without clothing and confronted Martinez at the home.
The Miramar Police Department said Martinez was arrested and charged with sexual assault, delivery of a controlled substance to a person under 18 and obscene communication.
Officials stated: "Martinez is accused of supplying a 15-year-old victim with drugs, sexually assaulting her and posting pornographic video of her on social media. The 15-year-old victim is currently hospitalized in critical condition. Additional charges are pending."
Detective Mark Moretti said in court yesterday the victim suffered organ failure and internal bleeding. "We are not sure if she is going to make it or not," he said. The officer's testimony appeared to take the suspect by surprise, causing him to stumble in front of the judge.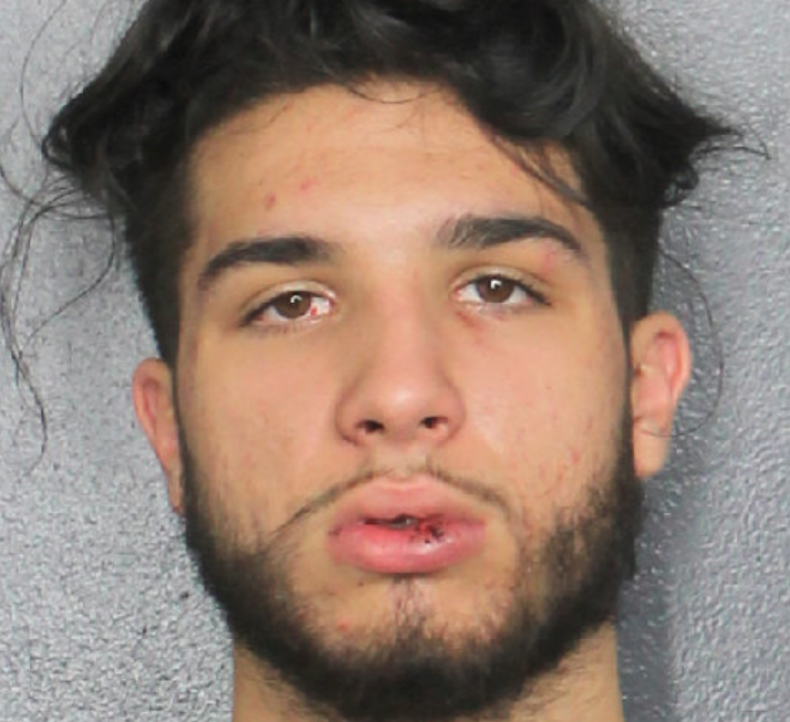 "We have a 15-year-old that basically threw a party, she shared the invite on social media," Miramar Police spokesperson Taina Rues told media yesterday, CBS Miami reported.
Rues continued: "Unfortunately it got out of hand. People showed up at the party that were unknown to the victim. Mr. Martinez was unknown to the victim. Mr. Martinez posted [the] video on social media and several of the victim's friends saw this video and confronted him. There was an individual who went back to the home and noticed her friend, her lips were turning blue, she was not conscious."
The Sun-Sentinel reported the teenager and some of her friends went with the suspect to a residence on Southwest 42nd Street at about 1 a.m Tuesday after the girl's party. Police later found footage appearing to show a sexual assault on the the teen had been streamed.
Friends of the victim told police they were were alarmed to later see a video on social media in which Martinez commented "the perc got her knocked out bro," the Sun-Sentinel reported.
Friends found her early on Tuesday evening in the home where Martinez was staying. According to Det. Moretti, Martinez and others drove the victim to a hospital, but the facility they chose was miles away and the time lost may have exacerbated her condition. Experts later determined she had been without oxygen to her brain for close to 30 minutes.
"The defendant and other associates could have taken her to a hospital much closer, minutes away. They chose to take her to a hospital an hour away in rush hour traffic… which probably contributed to her accelerated status," the investigator said during the court hearing.
NBC Miami reported the girl was admitted to the Palmetto General Hospital in Hialeah before being airlifted for treatment to Nicklaus Children's Hospital, which is in Coral Terrace.
The news outlet reported Martinez admitted he uploaded the pornographic video, after initially claiming he just kissed the 15-year-old. A friend of the victim, Brandon Dasent, punched the suspect—leaving him with a cut lip as seen in his mugshot. Police were then called.
Dasent told NBC Miami he was at the party in Miramar. He said: "At the actual party I did try to stop her from getting back into his arms, his grasp. I pulled her out of the room, I told everyone not to let her back in, but then I regrettably left the party. What I feared was going to happen, happened. I'll never forgive myself."
Martinez is in custody at the Broward County main jail on $550,000 bond, records say. Police urged additional victims to come forward, saying: "Anyone who believes they may have been victimized by Martinez is urged to contact the [department] at 954-602-4000."