Florida Man, Nude and Covered in Mud, Arrested for Biting Police Dog
Donald Watts, 38, was arrested in High Springs after police apprehended him rolling naked in a muddy ditch and making bird noises.
Action News Jacksonville reported that police were called to Southeast Brawley Terrace with reports that Watts was high on methamphetamine and acting erratically. While police were on the scene, a second 911 call was placed by a homeowner who said that a person was in his yard with a flashlight.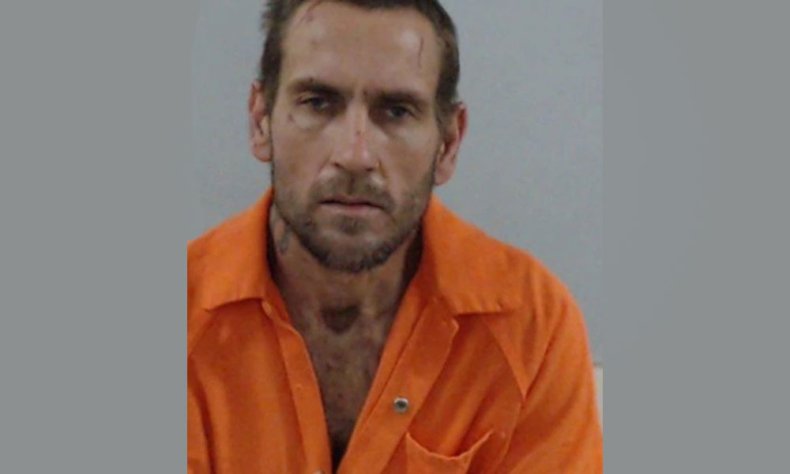 Deputies went to the complainant's home, where they spotted a flashlight being turned on and off and heard unusual noises. They investigated further and found Watts in the ditch, completely nude, pacing back and forth and making sounds with his mouth, according to Action News Jax.
When approached by police, Watts attempted to escape, hiding under the porch of a mobile home. After a brief standoff, he left his hiding place and engaged with police, punching one of the deputies several times, according to reports.
Two deputies used stun guns on Watts, to no effect. They called for backup and were soon joined by six other deputies, as well as Casper, a K-9 officer.
The group tracked Watts to nearby woods. When he saw Casper, the nude man got down on his hands and knees and began acting like a dog himself, Action News Jax reported.
Casper's handler then gave the dog the command to bring the suspect down. When the dog engaged Watts, he grabbed the animal's head, bit his ear and wrestled him to the ground.
Enraged, the dog worked his way free and bit Watts's head as he was being taken into custody.
Deputies took Watts to the hospital to clean up the dog bite before booking him in Columbia County Detention Facility. He is being charged with resisting arrest with violence, simple battery on a law enforcement officer, and aggravated battery on a service dog.
Criminals biting police dogs is a surprisingly common occurrence. In September, KOAT reported that a New Mexico man who had been fighting with a woman barricaded himself inside her home. A K-9 unit was sent to flush him out and the man bit the dog's neck before being apprehended.
The animal officer was given a course of antibiotics to fight off any infection from the perp's saliva.
Earlier in the year, Gray News reported that Matthew Williams, 35, was arrested by police in a La Quinta Inn in Manchester, NH after barricading himself in a motel room. A K-9 unit was brought in to roust Williams, who responded by biting the dog on the top of the head.