Florida Man Blinded in One Eye, Loses 60lbs, After Fire Ants Swarm Over His Face: 'This Is a Bad Way to Go Out'
A Florida Man has been left partially blind in one eye and almost 60 pounds lighter after fire ants swarmed his face when he collapsed in a parking lot.
Clifford Rice landed between two cars while on duty as a security guard at the Tampa Bay Buccaneers' Raymond James Stadium on September 8, according to a post by St. Joseph's Hospital in Tampa, Florida.
He was taken to the hospital, which has called him the "Miracle Man," more than 7 hours after collapsing.
"Seventeen days ago Clifford Rice had a seizure while working as a security guard," St. Joseph's Hospital said in a September 25 Facebook post. "He collapsed between two parked cars and wasn't discovered for more than 7 hours.
"When he arrived at St. Joseph's Hospital he was unresponsive, unable to breath on his own, dangerously dehydrated, in organ failure and had extensive physical injuries from prolonged exposure to the elements.
"His chance of survival was very low. But he defied the odds and today he was able to go home."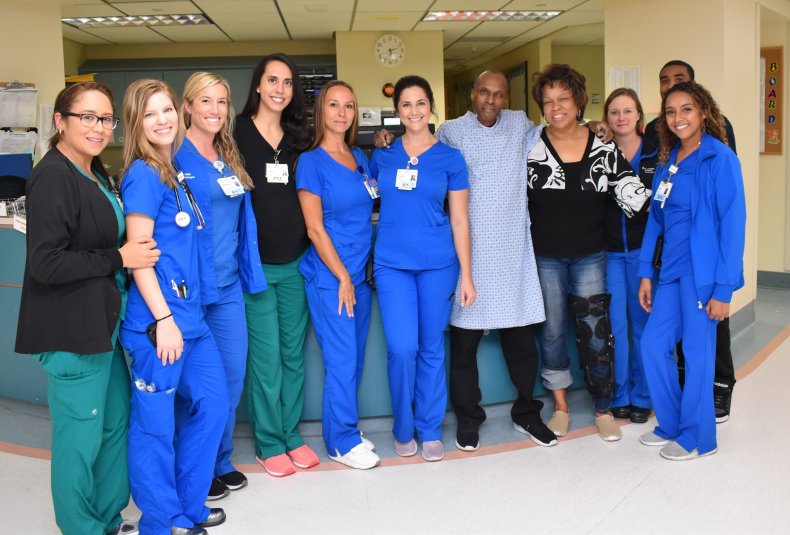 The hospital added that his collapse at work was the result of a seizure, and shared a picture of staff posing with Rice while wishing him well in his recovery.
Speaking to Tampa Bay news outlet WFTS, Rice said he was exhausted and trying to find his car after a concert by country singer Tim McGraw when he collapsed.
"I wasn't supposed to be alive. They had never seen anything like it before and, you know, I barely had any life left in me when I got [to the hospital]," the 49-year-old told ABC Action News WFTS.
He also said he saw the fire ants "coming in a line" after he collapsed, adding: "I was like, 'wow, OK, this is a bad way to go out.'"
Rice went on to describe himself as "very fortunate" to have survived after he was left unable to call for help when he dropped his cellphone.
He told WFTS that he woke up at the hospital partially blind in his left eye and having lost around 60 pounds.
In a separate incident, another Florida man was struck dead by two cars shortly after being released from an Orlando hospital, according to the New York Daily News, which added that Florida Highway Patrol was looking for a hit-and-run driver.