Florida Man Broke Into Pool Shop, Made Himself a Drink Before Leaving 'Secretary Wanted' Sign in Window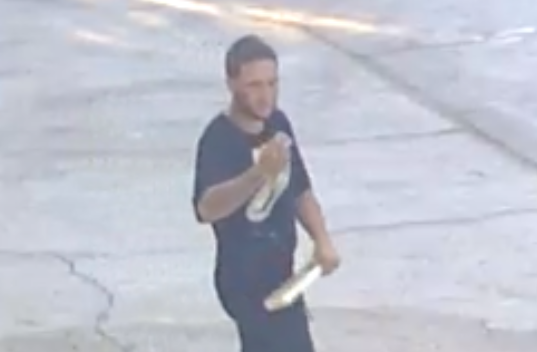 Police officers in Florida have been left puzzled after a man broke into a pool shop, made himself a drink and then departed, leaving a sign on the window suggesting he was looking to recruit a secretary.
The bizarre incident unfolded on April 27 in Port Charlotte, a town approximately 100 miles south of Tampa when a man broke into a pool shop located at 929 Tamiami Trail, just a block away from the town center.
Having made his way into Customs Pool by Precision, the as-yet unidentified man proceeded to then make himself a drink by using some of the beverages located in the refrigerator. He even used the office computer to browse the internet.
As if the circumstances couldn't get any weirder, he then departed the premises after leaving a sign reading "Secretary wanted, $17.00 per hour" in the window.
The whole series of events was captured on camera, and officers at Charlotte County Sheriff's Office could scarcely believe what they were seeing.
"You know those people who just make themselves at home, eat your food and use your stuff without asking? " the Sheriff's Office posted on its official Facebook page two days after the incident.
"Well, this unidentified male is just like that, only WORSE.
On April 27th, this unknown male made unlawful entry into Custom Pools by Precision work vehicle and office located at 929 Tamiami Trail.
"While inside, he proceeded to make himself at home by using the business computer to surf the web and helped himself to some beverages located in the refrigerator.
Wait, there [is] MORE. He also posted a sign in the business window, 'Secretary wanted $17.00 per hour.'"
As part of the Facebook post, Charlotte County Sheriff's Office shared a picture of man captured by a CCTV camera. Deputies said anyone with information which can help with identifying him should contact the police.
People can get in touch by sending the Sheriff's Office a Facebook message, submit a tip on Charlotte County's police mobile app or call 941-639-0013.
According to data compiled from SpotCrime, crime rates in Port Charlotte last month were down by 25 percent month-on-month.
In April, property crimes such as theft, vandalism and burglary were 9 percent lower than in the previous month, while violent crimes such as shooting, assaults and robberies were broadly unchanged from the previous month.
Over the last six months, 72 cases of theft have been reported, with 11 instances of vandalism and a solitary case of burglary.