Florida Man Attacks Girlfriend With Pumpkin, Police Say
A Florida man was arrested in the early hours of Monday morning for allegedly assaulting his girlfriend with a pumpkin.
Nathan Garisto, 26, was arrested on domestic battery charges, after he reportedly threw a winter squash and its innards at his girlfriend at around 2 a.m.
The Largo residents had been cohabiting for a year and a half, according to the police report, when the pair began arguing. The woman asked her boyfriend, who was intoxicated, to leave the property several times. He refused and his girlfriend claims he responded by striking her with a pumpkin, and throwing a tarp with pulp and seeds all over her.
The victim at the scene was "covered in pumpkin seeds and pulp," said police.
Officials also noted that Garisto was "heavily intoxicated while engaged in a verbal argument with his girlfriend."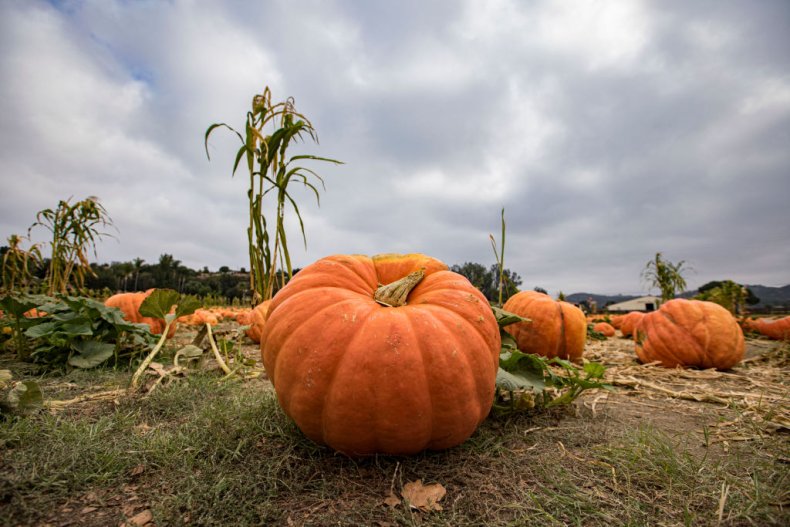 Garisto claimed that he didn't mean to hit his girlfriend with the vegetable but instead "threw the pumpkin at the sliding doors," according to a police report.
Garisto has pleaded not guilty to the misdemeanor assault and has been released on a $1000 bond. He has been ordered to not have contact with the 29-year-old victim and wear an alcohol monitor.
According to The Smoking Gun, Garisto has previously been charged with drunk driving, marijuana possession, careless driving, and probation violation.
Newsweek has contacted Largo Police Department for further comment on the incident above.
Criminal charges relating to domestic violence in the state of Florida can range from 60 days to a year in jail for a misdemeanor, and for a felony; five years to life in prison. No contact orders are common in these cases.
Florida domestic violence charity, Peaceful Paths, has seen 25 percent more calls and requests for legal assistance during the coronavirus pandemic. Many factors may currently contribute to domestic violence, including rising unemployment, an increase in alcohol intake, a fear of getting coronavirus and less access to mental health facilities.
UN Women calls domestic violence during coronavirus the "shadow pandemic," citing confinement as something that fosters tension and creates strain at home. With nationwide closures and restrictions, women are more isolated and separated from resources. The organization claims that from April 2019 to April 2020, some 243 million women and girls (aged 15-49) across the world "have been subjected to sexual or physical violence by an intimate partner," and it predicts this number will significantly grow as the pandemic continues.
"The global cost of violence against women had previously been estimated at approximately USD 1.5 trillion," according to UN Women. "That figure can only be rising as violence increases now, and continues in the aftermath of the pandemic."