Florida Man Punches Female Public Defender in Head During Court Hearing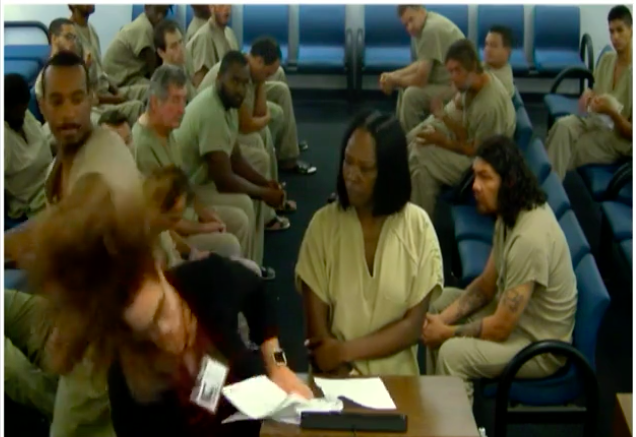 A Florida man — who has been accused of attacking a mental hospital staffer — punched a female attorney in the head on Wednesday morning during an appearance in Broward County bond court.
While appearing before Judge Jackie Powell, assistant public defender Julie Chase was violently lobbed in the head by 27-year-old William Green while looking down at her notes at the podium. In a video of the attack, Green can be seen getting up from his chair and walking up behind Chase, before punching her in the head in an apparently random attack.
Chase was hit so forcefully that she fell to the ground, prompting court proceedings to halt and intervention from security. Responding to the incident, bailiffs rushed to tackle Green and remove him from the scene.
"What happened?" Powell asked from the courtroom, immediately after the attack, which sent the court into recess. All others present also reacted with shock at Green's actions.
The attorney was immediately transported to Broward Health Medical Center, where she was assessed and treated. She has since been released from the hospital.
"I'm doing OK," she told Local 10 News as she left the medical facility. Chase added the attack "was a bit of a shock. I didn't expect it, but I'm doing OK."
Police arrested Green on Tuesday for battery after he allegedly attacked a mental hospital employee. Gordon Weekes, executive chief assistant of the Broward County Public Defender's' Office, criticized authorities for giving Green the opportunity to commit violence again by not restraining him.
"He [Green] seemed to be in a clear psychotic state, and he was arrested for battering a [hospital] technician, attacking him from the back," he said, adding that Chase was a "very dedicated attorney."
"There was a big push to have officers trained to deal with crises, trained to identify folks with mental-health illnesses, trained to make better decisions about who they were going to arrest and it seems like going into a hospital to arrest someone who is acting out in a psychotic state, consistent with their psychosis, only seems to transfer the issue to the jail," Weekes added. "For our attorney to take the brunt of the failures of law enforcement... is unacceptable."
The Broward Sheriff's Office did not immediately respond to Newsweek's request for comment.