Florida Man Says God Ordered Him to Break Into Neighbor's Home, Throws Bible at Cop
Authorities in Florida arrested a man after he claimed that God ordered him to break into his neighbor's home—and threw a Bible at officers when they arrived on the scene.
"That is one for the big book," Zachary Moore, a spokesman for the Marion County Sheriff's Department (MCSO), said about the incident.
MSCO deputies arrested Robert Hoskins, 39, on September 22 and accused him of breaking into his neighbor's home in Summerfield, a community located just south of Ocala.
Hoskins had reportedly asked the neighbor if he could borrow some clothing, but the man declined and soon left his house. Upon returning approximately one hour later, the victim found his front door kicked in, according to an arrest affidavit obtained by Newsweek.
While the victim surveyed the damage, Hoskins came over and said, "I f****d up man. I was mad," the victim told authorities.
When deputies arrived at the scene, Hoskins shouted as he approached them, wearing only his underwear, according to arrest records. He raised his hands behind his back, revealing a Bible.
"Hoskins revealed that he had a Bible behind his back, raised it above his head—we're not making this stuff up. This is for real. We can't make it up," Sergeant Paul Bloom, an MCSO spokesman, said in a video posted to the department's Facebook page. "He raises up his Bible and says, 'I commend you,' whatever, and throws the Bible at Deputy Stith."
According to the arrest affidavit, however, a deputy recalled Hoskins saying something along the lines of "I condemn you," although he said he couldn't remember the exact words.
Hoskins threw the Bible at the deputy with "force and momentum," striking the left side of the officer's face and jaw. Records show that deputies fired a Taser at Hoskins to subdue and then handcuff him.
"Hoskins continued to approach Deputy Gould in an aggressive manner and ignored all of our commands to stop, so Deputy Salgado deployed his Taser," Bloom said in the video. "Well, Hoskins was arrested and taken to our Gold Star Hotel after that come-to-Jesus meeting."
The "Gold Star Hotel" is a term used by residents in the area to refer to the Marion County Jail, Bloom told Newsweek in an August 11 email. Bloom and Moore host the "Marion Rundown" most Mondays and Fridays each week, providing a "rundown of events" and offering both information and commentary.
"In short, our page is intended to be informative and educational while still being entertaining and connecting with our community," Bloom said in the email. "Over the years, we have seen with the increase in followers that our detectives are able to close cases more quickly, and we have been able to locate missing/endangered persons more quickly by engaging the help of our public."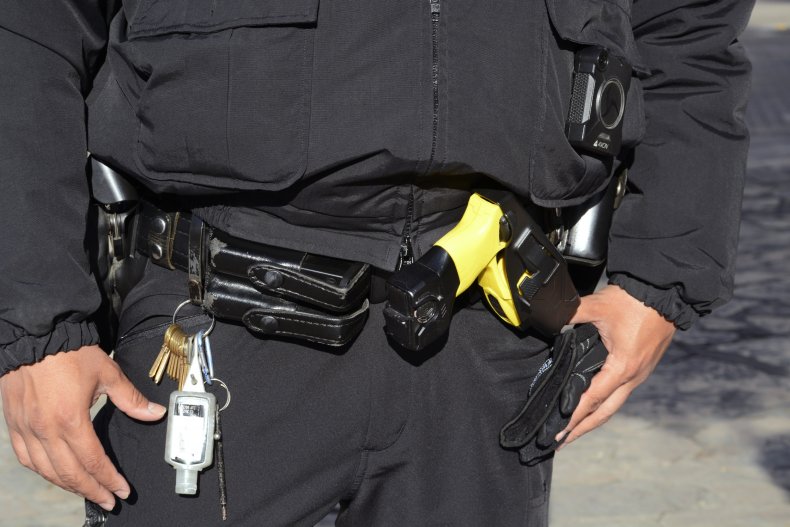 Deputies placed Hoskins under arrest and transported him to the Marion County Jail. He was charged with burglary, petit theft, battery on an officer, resisting arrest and property damage.
Hoskins later posted a $13,000 bond set for all five charges and was released from the jail Monday, according to inmate records. His next appearance in court is scheduled for October 27.
One of the deputies spoke with the victim's wife, who claimed that $50 worth of clothing—two pairs of gray shorts and a red shirt—were missing from the home. In addition to the front door being kicked in, the deputy observed a smashed window and a mattress that had been pushed to the side, according to arrest records.
Hoskins' wife told authorities that she hadn't seen Hoskins since earlier that morning, when he left their home, according to the arrest report.
Deputies asked Hoskins why he had entered his neighbor's residence, to which Hoskins replied: "Because God told me to." Then he said, "I freed her, I freed [redacted]." The redacted person's name is the suspect's juvenile daughter, according to the arrest report.