Florida Man Threatened to Kill Children at Elementary School Because 'Building Is Painted Like an American Flag'
A man is due to undergo a mental health evaluation after he planned to kill children and adults in a knife attack at an elementary school in Florida.
Andrew Aman, 22, was detained after his roommate informed Hillsborough County Sheriff's Office about his alleged plan to carry out the attack at the Bellamy Elementary School in Tampa.
According to Fox 13, the sheriff's office issued a document warning deputies about the planned attack, but did not inform the school.
The document said Aman had taken a kitchen knife from his home was intending to "stab as many children as possible" and that "if adults get in the way, he planned to stab them as well." The sheriff county document added: "Law enforcement should use extreme caution in dealing with [the subject]."
According to Crystal Clark, chief communications officer for Hillsborough County Sheriff's Office, Aman wanted to attack Bellamy Elementary School because "the exterior of the building is painted like an American flag and he has negative views of patriotism towards the United States," reports WFLA.
Aman reportedly changed his mind about attacking the school after talking to his roommate before he left. Aman's roommate then called the police. Officers conducted a search of Aman's residence, but found no firearms.
Aman was later taken into custody under the Baker Act, a state law that means a person can be detained for mental evaluation if they are deemed a potential danger to themselves or others or have made a credible threat of violence against another person. The sheriff's office says Aman has been diagnosed with several mental illnesses in the past, reports WFLA.
"An investigation is ongoing and charges could follow," Clark said. "However, there is currently no safety threat for students, parents or staff of Bellamy Elementary."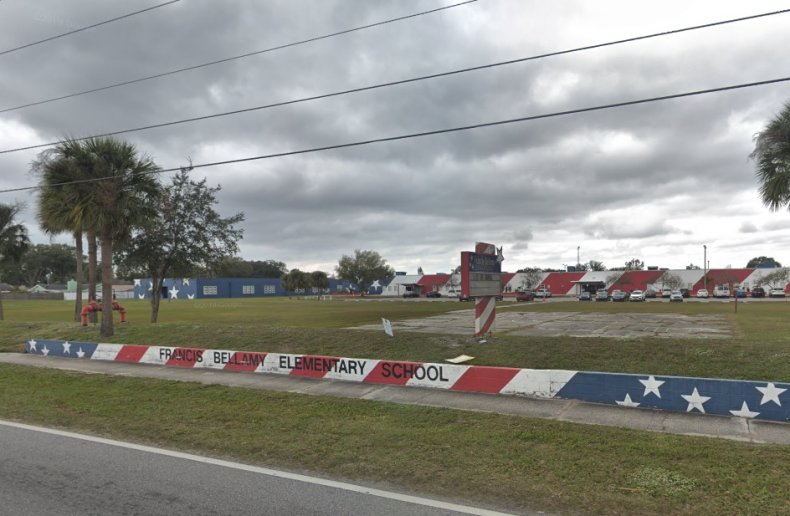 Earlier this year, a Tampa woman was arrested after she made a threat online to kill people at an elementary schoo.
Juliana Cote, 26, posted a photograph of a fake firearm along with a caption threatening to "shoot everyone" at the nearest elementary school on her Facebook page on May 16.
The Hillsborough County Sheriff's Office was made aware of the post and deputies interviewed Cote the same night at her home, which is close to Egypt Lake Elementary School.
Cote then admitted to creating the Facebook post. She was arrested on suspicion of written threats to commit a mass shooting or terrorism, the Hillsborough County Sheriff's Office said in a statement.