A homeless man in Florida went on a car vandalism spree Monday, smashing at least 20 vehicles before getting tired and falling asleep on a nearby bench. When questioned by authorities, he said it happened because President Donald Trump "owes me one trillion dollars."
The Okaloosa County Sheriff's Office in a press release identified the man as 30-year-old Justin James Wilson, and said he damaged at least 20 cars or more that were parked at the Holiday Inn Resort on Okaloosa Island.
The sheriff's office stated Wilson faces 14 counts of felony criminal mischief and six counts of misdemeanor criminal mischief for an estimated $30,000 in damages to at least 20 cars.
When deputies located Wilson nearby, he confessed to the officers and said, "Take me to jail. I did it because Donald Trump owes me one trillion dollars and these vehicles belong to the mafia."
The sheriff's office interviewed witnesses, who claimed they saw Wilson smash and damage cars by using rocks and belt buckles to beat the cars and smash windows.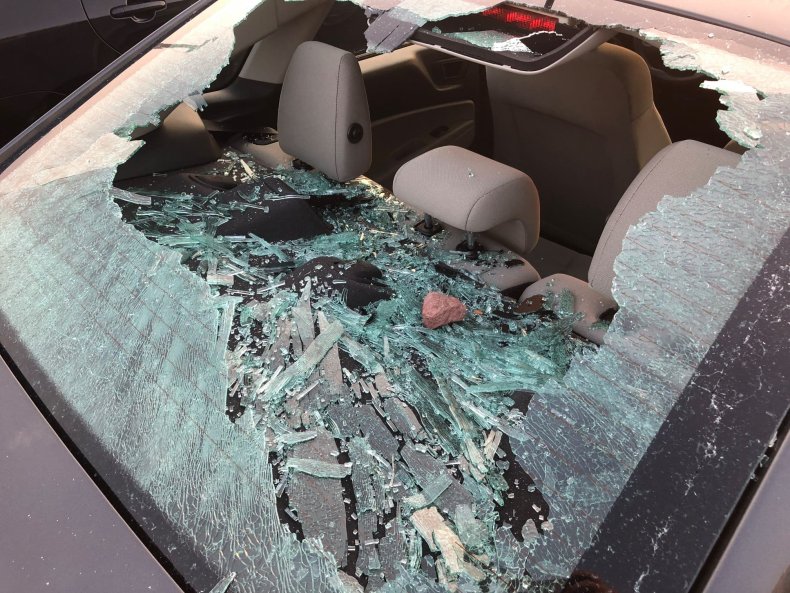 Okaloosa Island is located on the northwestern part of the Florida panhandle, east of Pensacola and just north of Panama City.
This report comes just four days after another Florida man vandalized and stole from a church in South Florida. Police in Doral are searching for a man caught on camera breaking into the Lady of Guadalupe Church and causing about $800 damage going through several offering boxes, according to WSVN in Miami. Police said the man took approximately $500 from the boxes.
And in Pasco County during February this year, a 60-year-old man reportedly got frustrated when he could not find his own car in a parking lot, so he vandalized 16 other vehicles. However, the bulk of Albert F. Megnath's damage was breaking, bending and removing windshield wipers from 16 cars, according to Patch.com.
Sheriff deputies said Megnath was argumentative and uncooperative when they confronted him. He was arrested and charged with criminal mischief and trespassing.
Only six of those vehicle owners reported damage to their vehicles, according to the report.
And not to be outdone, a month earlier, 20-year-old Ryan Stump of Jensen Beach, Florida hopped onto a police patrol car and stomped onto the roof and hood as he filmed it and later posted online, according to thenewswheel.com.
He caused about $2,000 in damage to the car, but Stump was already under watchful eye of local law enforcement for a separate drug charge.