Florida Man Stands In Sunroof To 'Praise God' While Driving Down Highway, Gets Busted For Reckless Driving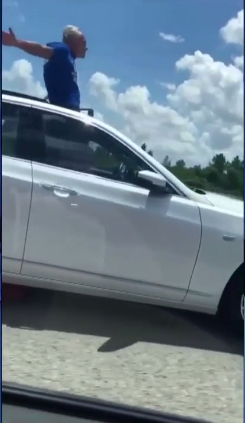 A Florida man has been charged with reckless driving after an off-duty police deputy spotted him standing in his sunroof as his car continued moving down the interstate.
According to WFLA-TV, the man was identified by Florida Highway Patrol as 70-year-old Leonard Olsen Jr. Olsen was arrested on Tuesday afternoon.
An off-duty deputy from Hillsborough County, Florida spotted Olsen driving down Interstate 4, telling responding highway patrol officers that he noticed Olsen's white Cadillac moving back and forth in the highway's center lane. As he continued to watch the car, Olsen opened the sunroof and climbed through it.
In the video the deputy shared with Florida Highway Patrol, Olsen can be seen standing in the sunroof with his arms outstretched as the car moves down the highway. The deputy reported the case to highway patrol and provided the agency with the car's license plate.
When FHP officer Ricky Binet responded to the call and pulled Olsen over, Olsen allegedly said he knew nothing about someone sitting on the sunroof of his car.
However, Olsen said he wanted to turn himself in to an 'official,' Binet's report said according to WOFL-TV.
"Mr. Olsen stated that he wanted to turn himself in to an 'official' and asked if he could turn himself in to me. When asked 'why do you want to do that?' Mr. Olsen stated 'My wife treats me like a servant and she's the mistress and I'm tired of this s---,'" the report reads.
Olsen later told Binet that he would rather be sent to jail than to return home.
Olsen reportedly admitted he did stand in the sunroof while the car was moving after he was taken into custody, WFLA reported, but Olsen said that the car had been on cruise control at the time and that "the car drives itself and has a gigantic computer in it."
Olsen later added that he had stood in the sunroof because he "thought it would be a nice way to praise God for a minute."
"I thought it would be nice at the time and that's what I did," Olsen said.
As of Friday evening, Olsen remains in custody at the Polk County Jail with a $21,000 bond.
The incident is just one instance of reckless and illegal driving in Florida in the past month. Earlier this week, a man was arrested for violation of a DUI and refusal to submit to DUI testing after he rammed a lawnmower into a police car. The man, identified as Gary Wayne Anderson, admitted he was intoxicated but denied he had ingested cocaine, though tests at a local hospital showed traces of the drug in his system.
Police also learned that Anderson's license had been suspended since 1978.
In April, another Florida resident was arrested for felony reckless driving after he was clocked going approximately 100 mph in a Ferrari. Following a brief car chase, a passenger in the vehicle told officers that the driver, Gabriel Molina, had ignored the initial siren of the deputy pursuing him.
When questioned, Molina denied he had evaded the officer, but admitted to speeding, saying, "the car is a Ferrari and it goes fast."