Florida Man Steals Bulldozer to Dig Up Biden Yard Signs, Police Say
A 26-year-old man allegedly stole a bulldozer from a construction site and proceeded to drive it through a predominantly Black neighborhood in Haines City, Florida, on Saturday, tearing down campaign signs for Democratic presidential nominee Joe Biden.
The man has been identified by police and local media as James Blight. Local Florida television network Spectrum Bay News 9 reported that Blight allegedly tore down Biden signs and also knocked over a speed limit sign with the bulldozer. Some local residents have described the incident as a "hate crime," due to the demographics of the neighborhood.
Police have said that Blight claimed to be drunk and said he does not remember the incident.
"[Blight] is being charged with grand theft greater than $20,000, criminal mischief of $1,000 or more, leaving the scene of a crime with property damage and driving without a license and trespassing on a construction site. Further charges are pending regarding the private property damage," a spokesperson for the Haines City Police told Newsweek in an email. "He was arrested and transported to the Polk County Jail. The investigation is ongoing."
Police Chief Jim Elensky said it was "absurd that a grown man could think he had the right to destroy someone else's property based on a difference in political opinion."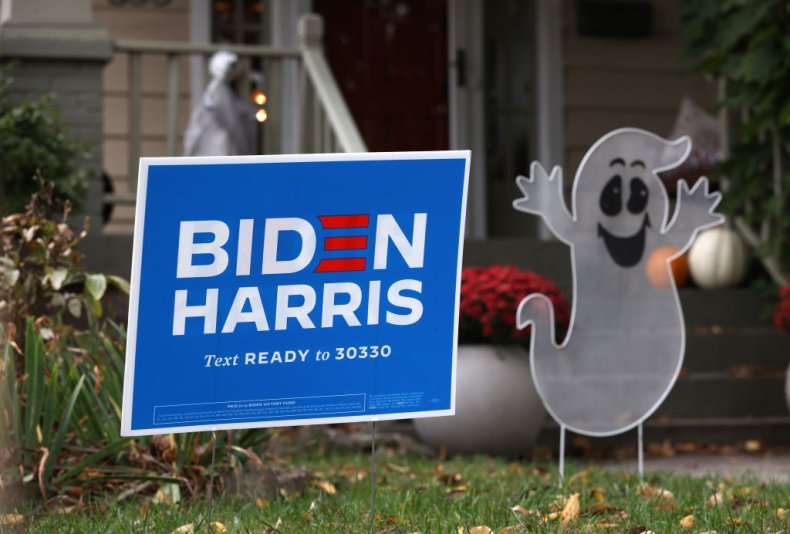 "To come into our community and destroy property—it speaks to the dog whistles that Donald Trump has been putting out his whole campaign. 'Stand back and stand by' and we have guys in bulldozers doing this. What does the president have to say about that?" former Vice Mayor Adam Burgess told Spectrum Bay News 9.
"There needs to be more punishment," Burgess said. "This was a hate crime."
Haines City, with a population of just over 13,000, is located in Polk County. In 2016, the county went for President Donald Trump by a wide margin of about 14 percentage points. Former Democratic presidential candidate Hillary Clinton won just 41.3 percent of the county's votes while Trump garnered 55.4 percent.
The state of Florida, where Trump officially transferred his residency in late 2019, went for Florida by a relatively narrow margin of 1.2 percentage points in the last presidential election. In 2008 and 2012, the southern state went for former Democratic President Barack Obama. The current Real Clear Politics average of Florida polls suggests Biden is narrowly favored to win the state—leading Trump by a small margin of 1.5 percentage points.
With tensions high ahead of Election Day on November 3—amid what is widely viewed as an exceptionally divisive campaign season—there have been numerous reports of Biden and Trump signs being stolen or vandalized in cities and towns across the country.
New York State Police reported last week that they had arrested 19-year-old Olivia Cinquinio of Amherst for allegedly stealing "multiple" campaign signs supporting Trump. Cinquinio confessed to the crime of petit larceny.
Earlier this month, a man in Trenton, Michigan, reported to police that his vehicle had been vandalized and that three of his Trump signs had been stolen from his yard, The News Herald reported. And Jacksonville, Florida, resident Myra Rubinstein told CBS News affiliate WJAX-TV in mid-October that she put up a Biden campaign sign and it was stolen the next day.
Updated October 26, 2020 at 4:38 p.m.: Comments from the Haines City Police have been added.