Florida Man With Sword Attacked Deputy During Standoff After Tasers, Beanbags Didn't Faze Him
A Florida man who had multiple visits from law enforcement officials Friday after several complaints got into a brutal standoff the third time around. The last time ended with Michael Kifer, 29, wielding a footlong sword and attacking a deputy, who fired his gun in defense. This was after four beanbags and three tasers fired at him proved ineffective.
The standoff began when Indian River County Sheriff's deputies made a third visit to Kifer's home. Kifer had either been drunk or high the first two visits, the Miami Herald reported.
On the third visit, deputies learned that Kifer had a knife and made threats to hurt someone over the phone. Kifer saw the deputies and took off running, but soon reemerged with a small hatchet. He took off running again, this time with sheriff's deputies trailing him as Kifer ran back into the house.
A dialogue between deputies and Kifer went nowhere, so they called in the SWAT team. Law officials breached the front door, which sent Kifer running into his bedroom. The SWAT team then broke through the bedroom window.
"Shoot me!" Kifer shouted at them but this time holding a footlong sword instead of the hatchet.
SWAT fired four beanbags at Kifer, who appeared unfazed and began running about the house.
Kifer kept reappearing at various times and shouted at deputies. During one of those times, they fired a taser at him, but that did no harm.
Kifer began running around the house again, with deputies still trailing.
"Shoot me!" Kifer shouted again as he continued running around the house.
They fired tasers at him twice more, and neither was effective.
At this point in the standoff, and still holding the small sword, Kifer began running at a deputy, who fired a live shot and dropped Kifer before he could reach the deputy.
Kifer was taken to the Lawnwood Regional Medical Center, where he died from his injuries early Saturday.
"Kifer was set on committing suicide by law enforcement last night and he forced our hand where we had to take action," Indian River County Sheriff Deryl Loa said. "These are unfortunate situations but we are proud of the work of the brave men and women of the Indian River County Sheriff's Office who did their best last night to bring this very dangerous situation to a resolution"
The deputy who shot Kifer was placed on paid administrative leave, which is protocol for the Indian River Sheriff's Office during incidents like this one.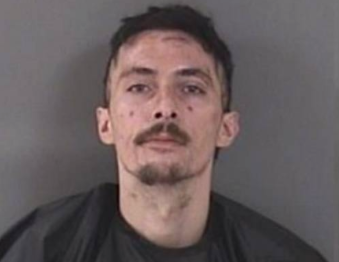 Michael Kifer, 29, held a foot-long sword when he attacked a deputy, who shot him on November 1, 2019. Kier died from his injuries the next day.
Photo courtesy of Indian River County Fla. Sheriff's Office