A court hearing in Florida turned chaotic on Friday when a man attempted to intervene in his wife's sentencing.
Gregory Carrasquillo was among the friends and family members present for the sentencing hearing of his wife, Crystal Carrasquillo, 24, for child abuse at the Charlotte County Justice Center in Punta Gorda, Florida. She was ultimately sentenced to 10 years in prison, having previously opted out of a trial by jury in August and pleading guilty to one count of aggravated child abuse.
During the hearing, Carrasquillo first interrupted the proceedings when he allegedly stood up in the gallery and asked to speak with the judge. He was promptly told to sit back down by the court bailiffs and did so.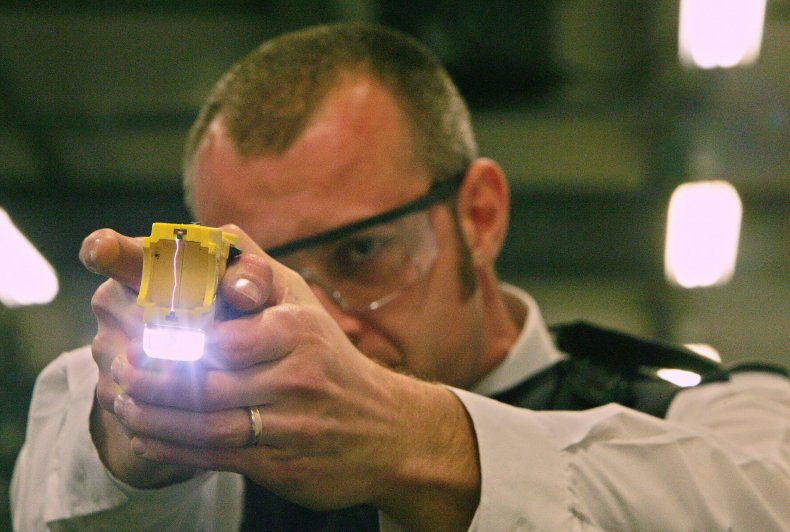 During the final moments of the hearing, while the judge was reading out the formal punishment for his wife, Carrasquillo allegedly made a ruckus once again. This time, the sheriff's office said, he scaled the court railing and attempted to approach his wife. Bailiffs tried to restrain him, but he resisted.
"At that time, one of the deputies deployed their taser, successfully contacting Gregory on his lower body," the Charlotte County Sheriff's Office said about the incident. "Gregory then complied and was placed under arrest."
Carrasquillo is now charged with one count of resisting without violence. In the wake of the incident, Sheriff Bill Prummell praised the court's bailiffs for their handling of it.
"Bailiffs play an important role in the courtroom throughout the administration of justice," the sheriff said. "They provide security not only to the judge, but to all parties in the room at all times. While I understand these proceedings can elicit an emotional response from loved ones, my bailiffs simply cannot allow an outburst of this kind. Their actions were swift, appropriate, and necessary to ensure the safety of everyone."
Crystal Carrasquillo was first arrested in 2018 after her then four-month-old infant was taken to a hospital in Port Charlotte, Florida, by a family member due to trouble breathing. Officials at the Fawcett Memorial Hospital eventually found that the infant had suffered "numerous broken bones in various stages of healing," including injuries to its rib cage, skull, and shoulder blade. The mother later told investigators handling her case that she would sometimes blackout from stress while abusing her child.
Assistant State Attorney Jennifer Garczewski and Assistant State Attorney Michael Colombo Jr. served as prosecutors on her case.
Newsweek reached out to the Charlotte County Sheriff's Office for an official comment on this story.