Florida Man Threatened To Blow Up Planes And Churches While Sending Woman 10,000 Texts in 12 Days, Cops Say
A Florida man is accused of stalking a woman and sending threatening messages after authorities said he sent 10,000 texts to her over 12 days.
According to the South Florida Sun-Sentinel, Nicholas C. Nelson is charged with stalking and sending intimidating and threatening messages to a woman who has not been identified. The woman told a Broward County detective that Nelson is an acquaintance who she met a few times because they share a mutual friend.
However, Nelson is accused of sending the woman approximately 10,000 text messages in April, including one that was accompanied by a photograph of a ticket from an airport parking lot with the message, "I'm going to start blowing up planes to prove my point."
Another message said, "Her & I can drive tanks around America & blow up churches or whatever we want & you could protect us" while a third read, "The only man you'll ever be with again is me."
The woman alleges that the texts began on April 5, and in the hopes of stopping them she shared them with the friend she and Nelson share. Instead of stopping, the woman told local police that the frequency of the texts increased.
Other messages allegedly sent by Nelson include, "You and I, We die together," and another where he insisted he wasn't suicidal, which reads, "I'm not suicidal, not even in the least" But I'd rather die then [sic] spend time in jail."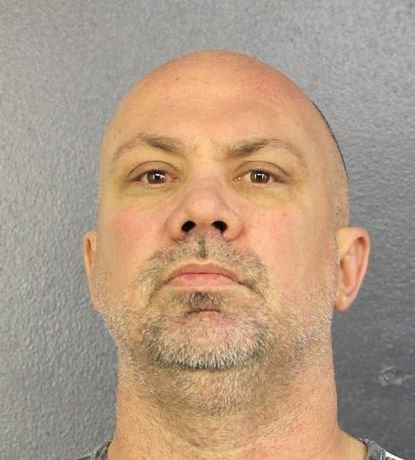 Nicholas Nelson, 48, is charged with writing intimidating and threatening messages and aggravated stalking after he reportedly sent a woman 10,000 text messages over a 12 day period and left his clothes in the front yard of a member of her family.
Broward County Sheriff
According to the Sun-Sentinel, there is no reason given in Nelson's arrest affidavit for why he sent the messages though the man's efforts towards the woman didn't end via phone contact.
On April 13, Nelson reportedly texted the woman a threatening message and then went to the home of some of her relatives and left his clothes in the front yard.
Nelson, a Florida resident, was arrested in Georgia and returned to Florida where he remains in the Broward County Jail. His bond totals $500,000, though there is a no bond hold due to another charge of aggravated stalking in Palm County, Georgia.
According to the Sun-Sentinel, authorities believe that case is connected to a different victim and not related to the Florida woman.
Nelson's case comes months after Arizona resident Jacqueline Ades allegedly sent 159,000 text messages and stalking a man she had gone on one date with. It was initially reported that Ades had
sent the man around 65,000 text messages
, but authorities later discovered thousands more.
Ades also reportedly threatened to kill the man and broke into his home.
Ades messages also included threats to the man, including one which read, "Don't ever try to leave me. I'll kill you... I don't wanna be a murderer!"