Florida Man Threatened Census Worker With Gun As He Collected Data, Police Say
A Florida Census worker was threatened with a gun as he travelled house-to-house collecting data, according to police.
Johnny Swinney was conducting the nationwide count of every U.S. resident when he was confronted with an assault-style weapon, according to detectives.
Now police have announced they arrested 32-year-old Michael Cooper on Monday in connection with the incident.
News channel Erie News Now said an incident report stated that neighbors had told deputies how Swinney's U.S. Census Bureau badge could be seen when he approached Cooper sitting on the porch of his home and he clearly identified himself as a federal worker.
However, it is alleged that Cooper shouted at Swinney to leave before going into his home and coming out with the weapon.
The incident report also alleges that Cooper loaded the gun chamber as Swinney returned to his vehicle where his wife, Nicole, was waiting. She allegedly saw Cooper pointing his weapon at her husband's back as he walked away from the house. Once in the vehicle, the couple then heard a shot fired, but it is unknown in which direction, said the report.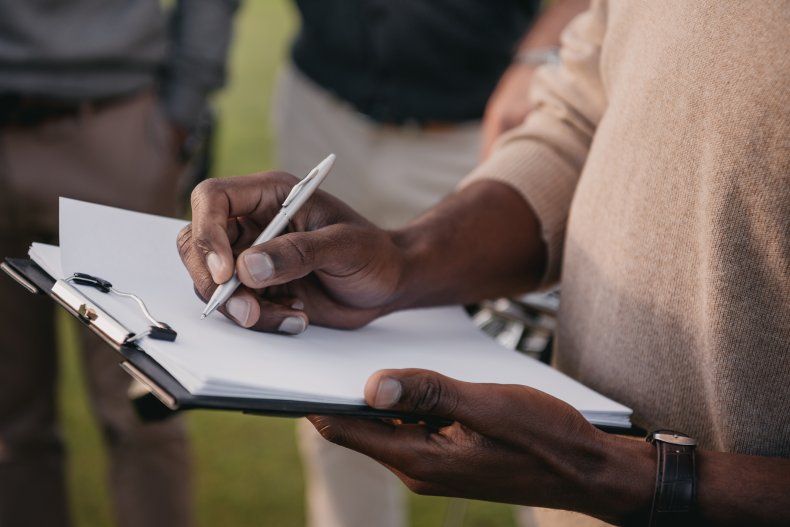 The news outlet said Cooper told deputies that Swinney was trespassing and that he didn't see an identification badge. He allegedly shot a round into the ground because he didn't want to leave it in the chamber.
Cooper is facing a charge of aggravated assault with a deadly weapon without intent to kill and is being held on a $7,500 bond at the Flagler County Jail.
Newsweek has contacted the U.S. Census Bureau in a bid to establish how many of its Census workers have been threatened or confronted by residents as they carry out their task.
Last month, Newsweek reported how a black man carrying out a census survey in Houston was told to leave the neighborhood by a white woman who said he "didn't belong" in the area.
Issac Perkins, who also works for the U.S. Census Bureau, was carrying out his duties in the River Oaks area when he was confronted by a woman who told him to get away from her neighbor's house.
Speaking to Fox26 Houston TV station, Perkins said he was concerned about the incident so decided to record the exchange on his cellphone.
In the footage, which he posted to Instagram, the woman can be seen approaching Perkins, asking him what he is doing and telling him he has no reason to be in the area.
The woman, who has not been named, says: "You need to leave. You don't have a reason to be here."