Florida Man Threatens to 'Drown Kids and Kill Adults' at Junior High After His Son Was Bullied
A Florida man reportedly got so fed up with his child getting bullied, he threatened to "drown kids and kill adults" if his son's middle school did not take action.
John McCarthy told a school in Gainesville that it had 24 hours to address an incident to which his son had been bullied, or he would take action.
McCarthy wrote his intentions on Facebook Thursday after an alleged third bullying attack, according to a Gainesville Sun report.
"A group of kids cornered my son in the pool during gym calls (sic), splashed him and assaulted to the point of busting a blood vessel in his eye, giving him a black eye and almost drowning him," McCarthy wrote in a post that has since been deleted. "Funny thing is, I can probably be arrested for this post, but these people can still roam around campus intimidating my son."
McCarthy's Facebook post had a photo of a male child with a red mark inside his left eye, according to The Sun. The post began with McCarthy's initial threat of raining hell, and that he would not sit by and watch his child continued to be bullied.
"Westwood Middle School has been given a 24hr notice to correct this issue the right way, before I rain hell on them! This is the 3rd time that my son has been PHYSICALLY ASSAULTED under your watch. AND IT WILL NOT HAPPEN AGAIN. Im not one of those soft ass parents, I will go to jail or the grave before I sit by and let this happen," he wrote.
When the son allegedly approached the P.E. coach to address the problem, McCarthy said his son was told to "stay away from them," and then later called to the dean's office and urged to "apologize to the kids so they" would not jump him.
"They removed me from campus today because I used my words like a big boy and they felt the campus was not safe while I was there, so I removed my son from the campus bc I feel he is no longer safe without me there," McCarthy wrote.
He continued writing to say that none of the other children had been suspended for their actions, but that he could possibly be arrested for wanting better protection for his child.
"Funny things is, I can probably be arrested for this post, but these people can still roam around campus intimidating my son. NOT ON MY F****** WATCH!"
Gainesville police arrested McCarthy on Thursday night off-campus, and reportedly said he claimed he would "drown kids and kill adults" since the school did not do anything after his son almost drowned.
Jackie Johnson is the spokeswoman for the Alachua County Public Schools who said McCarthy's comments were threatening—especially in the day and age of people making threats to shoot up schools. She also said McCarthy's claims were unfounded after an internal investigation.
"But it is one of those situations where people do not have the facts, and they are unfortunately jumping to conclusions, and in the worst-case scenarios, repeating threats against the principal," Johnson said. "And that is certainly inappropriate."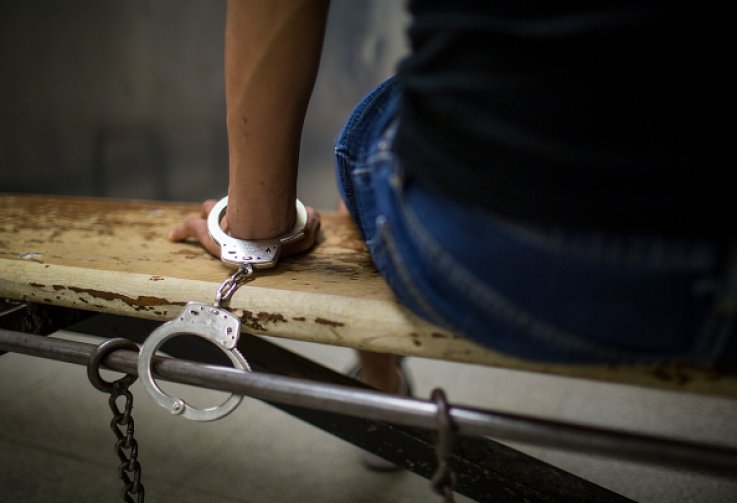 Florida Man Threatens to 'Drown Kids and Kill Adults' at Junior High After His Son Was Bullied | News