Florida Man Throws Nunchaku Through Car Window in Road Rage Attack, Police Say
A 56-year-old Florida man was arrested last weekend after hurling a set of nunchaku at a vehicle's window during a "road rage incident," police say.
Leonardo Fernandez, of Tampa, was detained on Saturday by deputies from the Hillsborough County Sheriff's Office after becoming embroiled in a violent incident close to the intersection of West Linebaugh Avenue and Sheldon Road, media outlet WTSP reported.
Police said the altercation was sparked by the suspect, driving a white van, cutting off the victim.
The motorist told police that Fernandez became "enraged and started driving recklessly" after he gestured at Fernandez to put his phone down, believing he had been texting and driving.
The situation escalated when the vehicles came to a stop at traffic lights, police said. It was then Fernandez allegedly exited his van with a set of nunchaku, a well-known martial arts weapon.
According to Florida investigators, the victim, who has not been named, said that his vehicle's rear window was left shattered after Fernandez threw the nunchaku at it.
Fernandez was arrested the same day for throwing a deadly missile into an occupied vehicle, criminal mischief and violation of probation. "Word to the wise, if someone drives you nuts on the road, don't throw nunchucks!" the Hillsborough County Sheriff's Office said online.
The agency published multiple images from the investigation to Facebook yesterday, including Fernandez's mugshot, the pair of nunchaku and the SUV's smashed back window. The arrest was confirmed with jail inmate records released online. His bond was set at $8,000.
Fernandez remains in custody, jail records state. Nunchaku, also known as nunchucks, are a traditional Okinawan weapon popularized by legendary martial artist Bruce Lee. They are legal in Florida but some states, including New York and Arizona, have banned their use.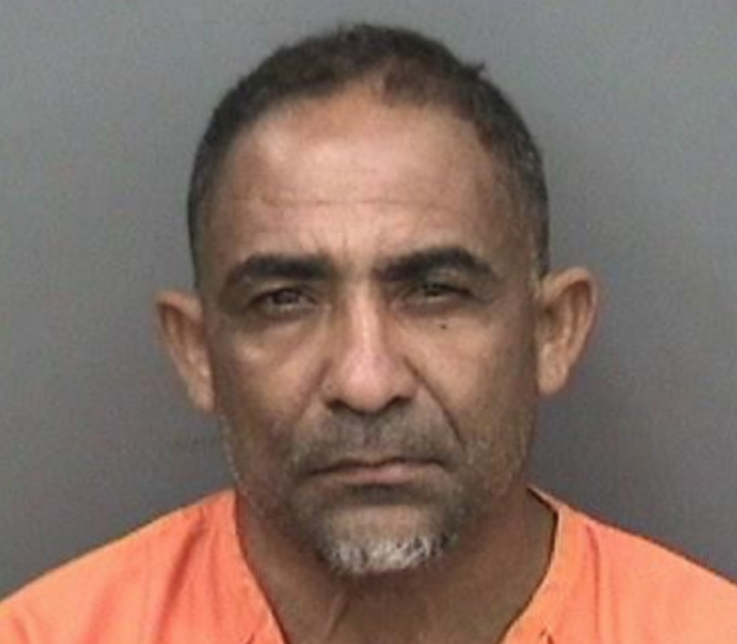 Arrest mugshot: Leonardo Fernandez, 56, of Tampa.
Hillsborough County Sheriff's Office
The charge of throwing a deadly missile is a second-degree felony punishable by up to 15 years in prison or 15 years of probation, and a $10,000 fine, according to Florida law firm Hussein & Webber.
The legal outfit explains in an online fact-sheet: "Where the charge concerns an object or 'missile' that is shot, thrown, or projected at a non-building, the target structure must generally be occupied or in use in order to subject the defendant to criminal liability.
"Where a vehicle is concerned, the offense necessarily involves the use of physical force or violence against an individual who is using or occupying the vehicle."
In August, a Florida man was arrested after being accused of attacking his neighbors with roach spray before accidentally hitting himself on the head with a nunchaku. Police said the suspect claimed to have been angered by residents playing music close to his apartment.
As reported, Larry Darnell Adams, 61, allegedly hurled the weapon at a vehicle before being detained on charges of aggravated assault and battery with a deadly weapon. Two of his victims had left their apartment to ask the partygoers to turn down the noise, police said.