Florida Man Throws 5-year-old Son Into Atlantic Ocean to Teach Him How to Swim, Says He's 'Going to Jail for Being Awesome'
A father in Florida has been accused of throwing his 5-year-old son into the Atlantic Ocean near a pier in a prohibited swimming area and abandoning the struggling boy in what the accused claims was a swimming lesson.
John Bloodsworth, 37, took his son to the Main Street Pier on Daytona Beach on Monday night before wading into the water and tossing his son into the waves. Witnesses saw the child struggling to stay afloat for roughly 12-15 minutes while Bloodsworth proceeded to do back flips off the pier and swim past his son. As he went past he yelled to his son to "go back," according to the Daytona Beach News-Journal.
"The little kid was out here by himself. Completely by himself. There was nobody around him, no adults," witness Mitch Brown told WESH, also noting that "The kid was already very visibly upset and crying, and he didn't want to be there."
"I said, 'I can't take this no more.' So I went down to the pier, down to the shore and confronted him myself," said the former Georgia State Trooper. "I said, 'You're coming with me, one way or another.'"
Brown took Bloodsworth to a local police officer, who arrested him, while several people tried to comfort his crying son and helped the child dry off.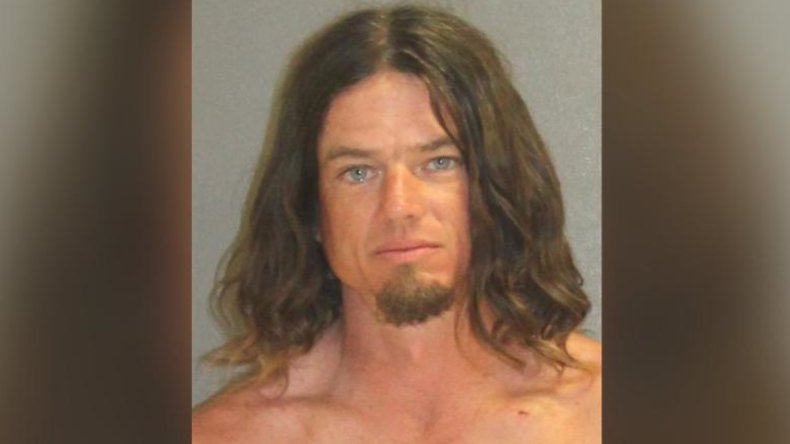 According to police, upon being apprehended the accused said he was "teaching his son how to swim." Bloodsworth further added that, "He was going to jail for being awesome. And would bring his daughter next time to jump."
Police further state that he was clearly intoxicated as his speech was slurred and his breath smelled like alcohol, with him saying he had consumed four to five beers before taking his son to the beach.
No lifeguards were on duty at the time, with a Volusia County Beach Safety Ocean Rescue officer noting that swimming in the area was prohibited as it was too close to the pier and that there was a moderate risk of rip currents.
The child, who police said didn't show any signs of injuries, has been turned over to his mother, while Bloodsworth has been charged with aggravated abuse of a child resulting in physical/mental injuries, disorderly intoxication and swimming within 300 feet of the pier.
He was released from jail on Tuesday after posting $1,500 bail. Bloodsworth was also issued a trespass notice barring him from returning to the pier or the surrounding area.