Florida Man Masturbating in Walmart Parking Lot Grabbed Officer's Behind During Arrest: 'Let Me Just Feel It'
A Florida man who was accused of masturbating in a Walmart parking lot grabbed a deputy's buttocks while he was being arrested, saying: "Let me just feel it."
Trenton James Rich, of Pensacola, was detained last Saturday by an officer from the Escambia County Sheriff's Office who responded to the N. Navy Blvd Walmart just after 4:30 p.m. after a complaint was filed about indecent exposure, the Pensacola News Journal reported.
The 19-year-old suspect, who is listed as homeless in jail records, allegedly made a number of lewd comments towards the officer and resisted arrest before attempting to flee the area.
An arrest report obtained by the local media outlet said Rich had been spotted by the deputy on a picnic table at the parking lot while shirtless. He gave his name but then exposed his genitals and said: "Suck on it." Shortly after—amid a brief tussle—Rich allegedly stepped back, put his hands into a karate chop stance and starting swinging them at the deputy, the report said.
The officer said Rich then grabbed his arms and rear end. He allegedly tried to punch the officer and ran off on foot. He was quickly caught after fleeing behind the Walmart and detained.
Legal records published by the Escambia County Clerk confirmed the suspect faced six charges, including assaulting an officer, battery, indecent exposure and resisting arrest. Arraignment was scheduled for August 2 at 8:30 a.m. and he was held on $10,000 bond, jail records said.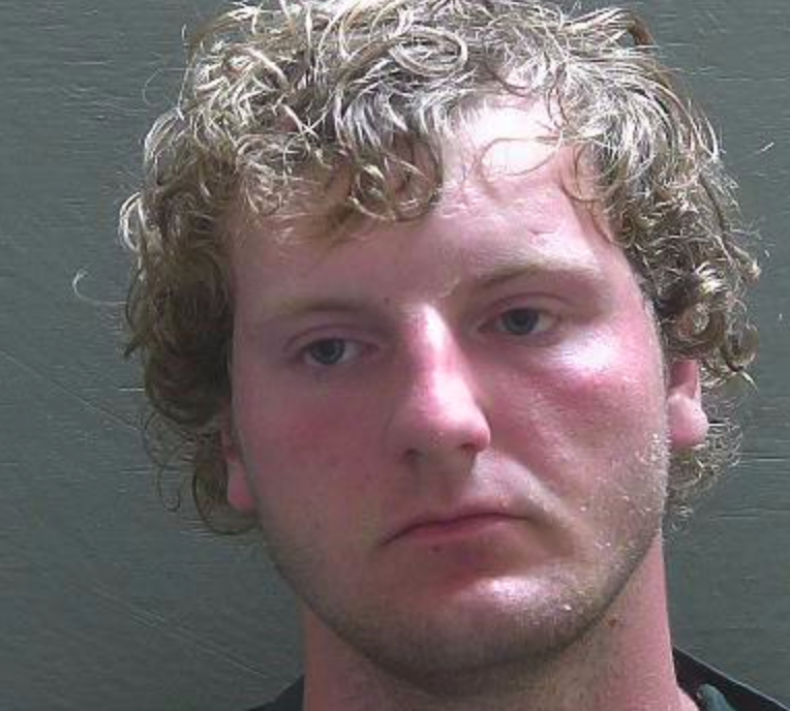 The arrest report detailing the allegations against Rich said the suspect had been "having fun" watching two women who were in the parking lot at the time. The information, which was based on witness statements, included an allegation he was seen "pleasuring himself."
The clerk said a defense attorney was appointed on Tuesday. According to the Pensacola News Journal, police were able to retrieve some DNA evidence from the man's clothing.
Under Florida law, indecent exposure is currently defined as the "intentional and lewd exhibition of a person's genitals within a public place." Penalties may include up to one year in jail and the creation of a permanent criminal record, according to an online fact-sheet published by Florida law firm Hussein & Webber.
Battery on a police officer is a third degree felony and carries penalties of up to five years in prison. The law firm said that the charge is "harshly prosecuted even for first-time offenders."
The same day in Escambia County, a 55-year-old Florida man was arrested after being accused of leaving his naked wife at the side of a highway before setting fire to her vehicle. Donald Allen Moran, who is also of Pensacola, was later detained by deputies on charges of battery and arson.