Florida Man Tries to Rob Waffle House With Finger Guns, Nabs Napkins in His Exit
A Florida man has been arrested after attempting to rob a local Waffle House with finger guns and stealing napkins from the local restaurant.
On Tuesday, the Madison County Sheriff's Office said that 28-year-old Eward Wiliam Rodriguez of Madison, Florida is facing charges for unarmed robbery and assault after trying to rob the restaurant while under the influence of drugs and alcohol.
Witnesses at the restaurant told Madison County deputies that Rodriguez walked into the Waffle House with a small dog, gestured his hands into finger guns and yelled out, "get on the ground, y'all are getting robbed!" Rodriguez then grabbed a handful of napkins and fled the scene.
Shortly afterward, Madison County deputies caught up with Rodriguez at home where he confessed to robbing the restaurant of its napkins, according to the Madison County Sheriff's Office.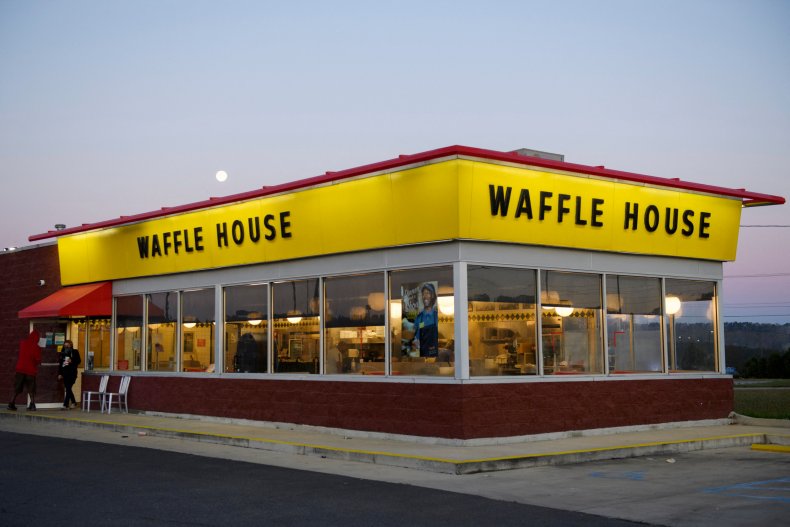 There has been a string of bizarre robberies in Florida over the last few months involving local residents.
In August 2021, a Florida man was jailed after allegedly stealing two trucks, a car, a four-wheeler and a forklift. The man ended up crashing both trucks and was arrested due to outstanding warrants including burglary and grand theft auto.
In June 2021, a Florida teen was arrested on felony and armed burglary charges after using a broken window to enter a neighbor's house while carrying a knife with a 2.5-inch blade.
After the teen was arrested and interrogated at the Indian River County Sheriff's Office, the teen told authorities that he was enticed to commit the robberies by Satan and that he planned to use the stolen money toward his college education.
"The defendant said he decided to burglarize homes to get money for college. He also said the devil kept tempting him to steal," said the arrest affidavit report.
Finally, in May 2021, a man in Cocoa, Florida who was being questioned by police managed to escape and steal two police cars.
"The suspect and the vehicle were in the wooded area just off the highway," said the Cocoa Police Department in a press statement. "As officers attempted to take the suspect into custody, he fled, jumped into another Cocoa patrol vehicle and continued north."
The Florida man ended up being charged with armed burglary of a conveyance, escape, fleeing or attempting to elude law enforcement, two counts of possession of a firearm by a convicted felon, and a host of other charges, according to local authorities.
Newsweek reached out to the Madison County Sheriff's Office for comment.