Florida Man Uses Coffee Cup to Fight Off Wild Coyote, Runs it Over With His Car: 'I Smashed Him…I'd Do it Again'
A Florida man used his coffee cup to protect himself and his dog from a wild and aggressive coyote while out on a walk.
Ben Pool, from Fruitland Park, Florida, was out for a walk with his dog on Friday when they were approached by a coyote. "My dog and a coyote were standing face to face, fixing to go at it," Pool told WESH.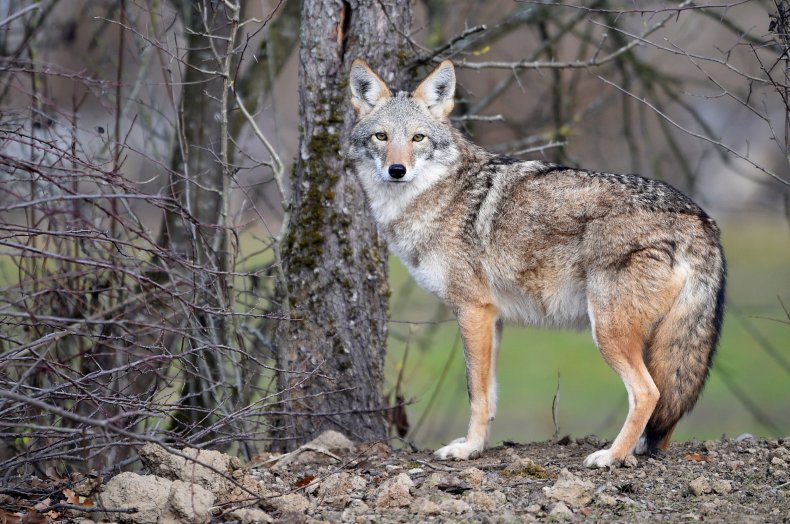 Pool said he was able to pull the two animals apart, but the coyote then turned its attention to him.
"He came at my legs, first, I smashed him in the side of the head with the cup," he told the TV station. "He came at me again, I smashed him again and then he jumped up at my face, when he did that I jumped back, smacked him in the side of the head, he screamed and he went down."
The pet owner and his dog were able to head home, but were followed by the "extremely aggressive" coyote. Pool said after trying to scare the coyote off with noises, he got a gun and drove off in a truck.
"I was going to shoot it out the window because I didn't want to get out and fight it again and when I did, it jumped up at the window of the truck," he said. "I rolled the window down, went three or four times at it, and finally I ran over it. No regret, none. I'd do it again in a heartbeat."
The Florida Fish and Wildlife Conservation Commission suggests several ways to scare off wild coyotes, including using noisemakers, yelling and throwing small stones or sticks towards, but not at, an animal.
"Do not attempt to hurt the coyote because injured animals are more likely to defend themselves; the goal should be to scare the coyote away," the agency said on its website. Despite those suggestions, Pool will not face any legal issues from the state wildlife agency.
"If I would have been bitten, everyone would have been here in a heartbeat doing something," Pool told WESH. "But since I wasn't bitten, nobody was going to come and do anything."