Florida: Man Accused of Hiding in Walmart Bathroom Stall for 3 Hours to Film 6-year-old Boy Using Urinal
A mother in Florida has claimed a man attempted to record her 6-year-old son using a urinal in a Walmart bathroom after he had been hiding out in one of the stalls for up to three hours "targeting kids."
Latasha Latimer said she called the police after her two sons used the bathroom at the Walmart in River City Marketplace, Jacksonville, on August 10. Speaking to First Coast News, Latimer said her other son, aged 12, noticed that a cell phone appeared from underneath one of the bathroom stalls and faced his 6-year-old brother while he was using the urinal.
"As soon as [my son] finished, he ran outside to checkout," Latimer said. Her husband then went into the bathroom to confront the man, who was still in the stall on his phone.
"He told my husband that he fell asleep in the stall and that's why his phone was in the direction that it was," Latimer said. "But I was like, 'Your phone never hit the ground. You still had the phone in your hand.' But that was the story he kept using when the police arrived."
Latimer said that when the man was removed from the store to wait outside for police, he started deleting items on his phone until officers from the Jacksonville Sheriff's office arrived at the scene around 30 to 40 minutes later.
"The officer said, 'Well, the last picture I see taken on his phone was from 2017,'" Latimer added. "I said, 'This guy stood there while we were waiting for you guys to show up and he was deleting stuff off his phone.'"
The officer then reportedly handcuffed the man and drove him away from the scene. Latimer said that Walmart employees informed her that surveillance footage showed that the man was inside the bathroom for as a long as three hours.
"The fact that this man was in the restroom for three freaking hours waiting to see if a child—because I'm sure he was looking at his shoe size-to come in...," she added. "He was targeting kids if he had been in there for three hours total."
In a statement to Newsweek, Walmart said: "We care about the safety and security of our customers and we take this seriously. We're working with the Jacksonville Sheriff's Office and as this is an ongoing investigation, we will refer additional questions to them."
The Jacksonville Sheriff's Office did not immediately respond to a request for comment.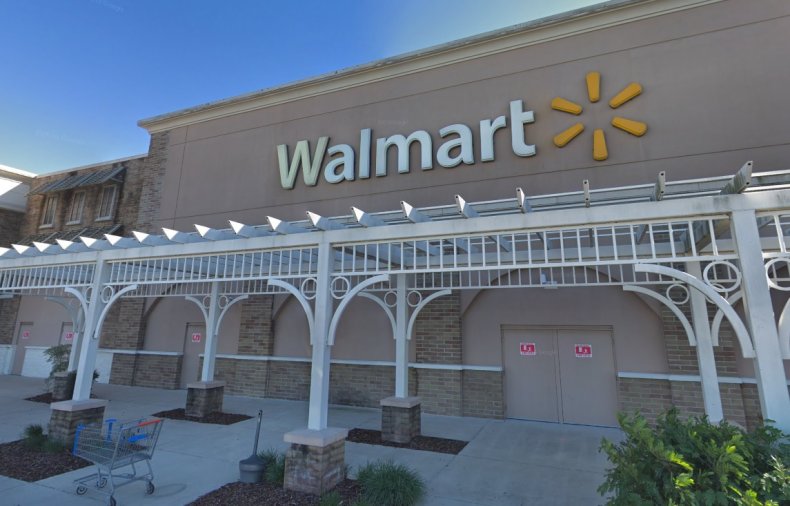 Florida: Man Accused of Hiding in Walmart Bathroom Stall for 3 Hours to Film 6-year-old Boy Using Urinal | U.S.