Florida Man Wearing 'COKE' Shirt Arrested For Selling Crack Cocaine
A Florida man was arrested last week for selling crack cocaine while wearing a shirt with the word "COKE" on the front in red lettering.
Terry Leon Simmons, 53, from Fort Pierce, was arrested on Friday afternoon on a felony sale and delivery of cocaine charge at his residence, according to a probable cause affidavit. Arresting officers at the scene issued Simmons with an additional federal possession charge after they found a marijuana joint and a bag of MDMA inside his house.
The suspect was then transported to the St. Lucie County Jail without incident, where he is currently being held in lieu of a $55,000 bond.
The arrest came two days after Simmons allegedly sold $40 worth of crack cocaine to a driver who was parked outside a convenience store a few blocks from his Fort Pierce apartment on June 5. Simmons was "wearing a two-toned blue shirt with red lettering on the front that said 'COKE,'" the affidavit said. He also had a "blue lanyard around his neck."
After the incident, authorities tested the substance and determined it was indeed crack cocaine. It is unclear whether the driver was an undercover agent as his identity has been redacted from police documents.
St. Lucie County Sheriff's Office did not immediately respond to Newsweek's request for additional information.
According to court and prison records, seen by The Smoking Gun, Simmons has been convicted numerous times for selling, possessing and purchasing cocaine and has spent a total of 17 years in Florida prisons since 1991. In February, Simmons was released from custody after serving nearly three years in prison for cocaine possession and tampering with evidence.
Fort Pierce, a city on the east coast of Florida, has a crime rate — 39 crimes per one thousand residents — considerably higher than the national average across all communities of all sizes in the U.S., reported Neighborhood Scout. Around 80 percent of Florida communities have a crime rate lower than Fort Pierce, whose roughly 46,000 residents have a one in 26 chance of becoming victim to either a violent or property crime in the area.
Simmons' arrest comes days after two men were killed and a third injured in a Fort Pierce shooting at around 8 p.m. local time on Sunday. Detective Jasmine Mojica identified one of the deceased victims as Calletano Molina, 41, of Palm City, reported WPBF. Authorities have not released the names of the other two victims. An investigation into the incident is currently ongoing.
"I want to be able to provide this family with justice, and ultimately we want to be able to get this person off the streets," Mojica said.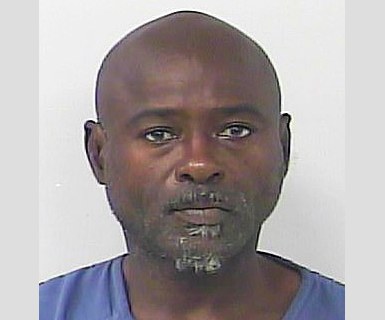 Terry Leon Simmons, 53, was arrested on Friday for allegedly selling crack cocaine while wearing a "COKE" T-shirt.
St. Lucie County Jail