Florida Man Seen on Video Running Away After Stealing Wallet From Man in Wheelchair
Police in Florida are searching for a suspect who was captured on video stealing a wallet from a wheelchair user.
The Tampa Bay Police Department has released surveillance footage as part of an appeal for the public to help find the man accused of robbing the victim at around 3:30 p.m. on August 7.
In the video, the suspect approaches the victim in a wheelchair on 7th Avenue near 21st Street. After appearing to hesitate and check to see if anyone is around, the male suspect then reaches into the victim's shirt pocket from behind to take their wallet, before running away from the scene.
"Tampa Police Detectives are asking for your help in identifying this robbery suspect so we can take him into custody," the force said in a statement.
Newsweek subscription offers >
Social media users expressed their outrage at the footage after the police posted it onto Facebook. They also offered suggestions on how to identify the suspect.
"People like this are the reason to bring back 'stocks' put this mf in stocks on 7th ave and let the community solve the problem," wrote Daniel Snyder.
"Looks like he is wearing scrubs or has an apron under his armpit. Maybe he works on a restaurant nearby," suggested Robert Benvenutti.
Anyone with information about the suspect's identity is asked to contact Crimestoppers of Tampa Bay at 1-800-873-TIPS or www.crimestopperstb.com. Crimestoppers said you can remain anonymous and get a reward if your information leads to the suspect's arrest.
Newsweek subscription offers >
Elsewhere, two people in Florida were arrested on suspicion of stealing sandbags from a road construction site as Hurricane Dorian approached the state.
Thaylon A. Lewis, 43, and Joseph Colombo Jr., 45, are accused of looting during a state of emergency after allegedly stealing the sandbags from a site on Daytona Beach at around 5 p.m. on September 2.
The men were spotted at the Tomoka Farms Road/Interstate 4 overpass. One suspect was allegedly loading bags into a red Chevrolet truck while a second man acted as a lookout.
Lewis and Colombo have been charged with theft during a declared state of emergency. Colombo also faces an additional injunction violation for possessing a firearm.
"Sheriff Mike Chitwood has issued several warnings that enhanced penalties are in effect during the state of emergency declared in advance of the storm, and will be pursued against anyone caught committing crimes during this period," a Volusia County Sheriff's Office spokesperson said.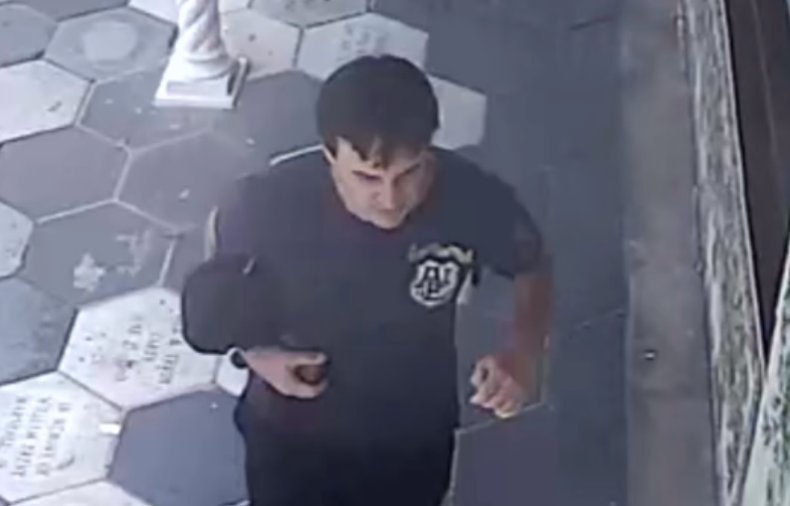 Florida Man Seen on Video Running Away After Stealing Wallet From Man in Wheelchair | U.S.