Florida Man Who Requested Mail-In Ballot For His Dead Wife Told Police He Was 'Testing The System'
A Florida man was arrested Thursday after requesting a mail-in ballot for his deceased wife.
A press release issued by the Manatee County Sheriff's Office states that on September 17, deputies responded to a call from the supervisor of the Manatee County Elections Office "in reference to a Vote by Mail Ballot request for a woman who is deceased."
Mike Bennett, supervisor of the county's election office, told police that his staff members received two mail-in ballot requests from Larry Wiggins, 62, and his wife, who was not named. While both requests were for the same address, staff members determined the woman's handwriting style on her request was different from her original voter registration documents.
"Elections officials notified deputies after comparing what they determined were not matching signatures, and confirmed that the woman had died in 2018," the Manatee County Sheriff's Office wrote in the statement.
The release states that Wiggins admitted to mailing in his dead wife's ballot request to "test the system to see if it worked."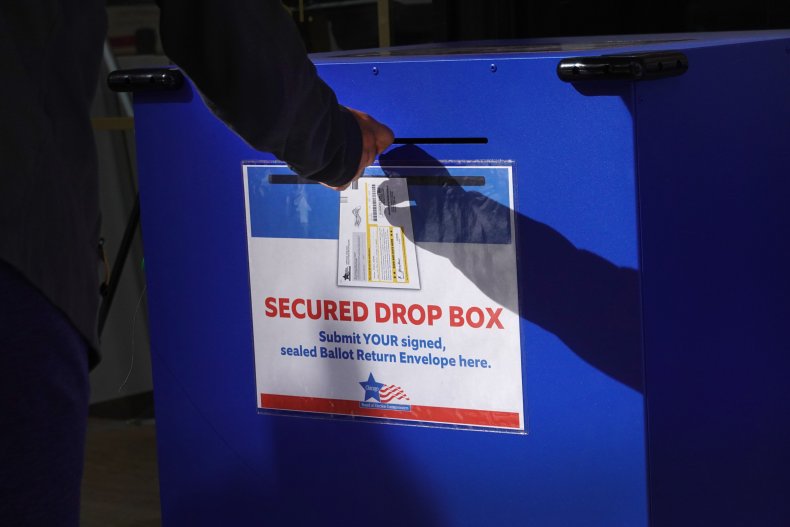 On October 1, Wiggins was arrested at his home "without incident," and was charged with requesting a vote by mail ballot on behalf of another elector, a third-degree felony, according to the sheriff's office. The Florida State Attorney's Office's 12th Judicial District will prosecute the case, the press release said.
While speaking with WTSP-TV, Bennett said that attempted voter fraud in Manatee county is "pretty rare."
"Not enough to swing an election normally, but I got to tell you even one fraudulent vote really, really upsets me and so we will prosecute to the full extent of the law," Bennett said.
The arrest in Manatee County comes as thousands of voters across the country plan to vote by mail amid the novel coronavirus pandemic, which President Donald Trump has widely criticized.
In Pennsylvania's Luzerne County, a "temporary seasonal independent contractor" was recently fired after "incorrectly" discarding a small number of military and overseas ballots, according to County Manager David Pedri.
The incident sparked backlash from Trump, who spoke about it during the first presidential debate, but during a recent online press conference, Pennsylvania Secretary of State Kathy Boockvar, said that "this was not intentional fraud," and instead called it a "bad error."
Newsweek reached out to the Manatee County Sheriff's Office and the Manatee County Election Office for comment but did not receive a response in time for publication.