Florida Man and Woman Have Sex in Back of Police Car After Getting Arrested for DUI
It's one thing to get frisked by the police when getting arrested, and it's another to get frisky after getting detained. That's exactly what a man and woman did in the back of a sheriff deputy's car in Florida after both got arrested for driving under the influence (DUI), according to the Nassau County Sheriff's Office.
The Miami Herald reported that a Nassau County deputy witnessed Aaron Thomas, 31, and Megan Mondanaro, 35, riding their bikes with no lights down the middle of South Fletcher Avenue (A1A Highway) in Fernandina Beach. Another vehicle almost clipped both of them, and that's when the deputy pulled them over, according to the police report.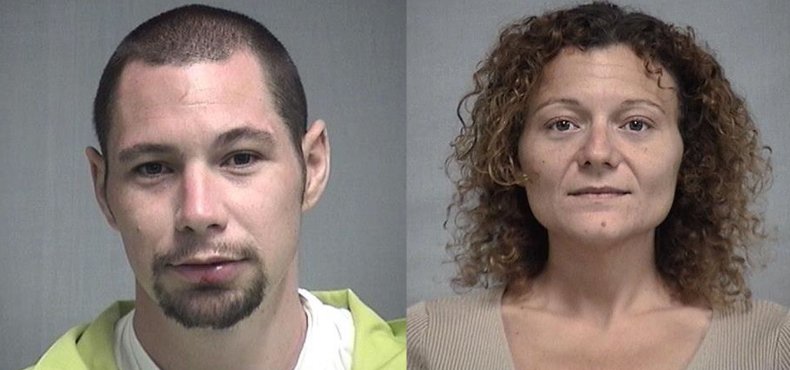 The deputy said both Thomas and Mondarao smelled of alcohol and had bloodshot eyes, so he put them in the back of his patrol car. That's when they began getting randy.
"While I was outside of my patrol vehicle, Megan and Aaron took their clothes off and started to have sex," the deputy's report stated. "When I opened up the door to stop them, Aaron was naked and Megan had her pants down."
As Thomas was getting pulled from the car, he slipped from the deputy's grasp and took off running through a nearby parking lot. Law enforcement later found him hiding behind a Cold Stone Creamery. He was also charged with theft for taking the handcuffs with him on his brief jaunt.
Mondanaro is being held at a detention facility in the county, and her bond was set at $12,508. Thomas is being held at the same facility without bond.
They both have multiple brushes with the law, including recent stints when Thomas served 46 days in jail after assaulting a law enforcement officer, and Mondanaro serving 60 days for parole violation from a previous conviction.
Fernandina Beach is located in the most northeastern part of Florida, just north of Jacksonville, and borders the Georgia state line.
Florida is no stranger to peculiar news stories with its residents challenging the law. Just last week a man in Okaloosa County — on the coast of the panhandle — tried using the ID of someone else who happened to be wanted by law enforcement.
Another man last week, also in Okaloosa County, smashed at least 20 cars because he said President Donald Trump "owed" him a "trillion dollars."
Another man in Martin County last week tried to flee police in a stolen golf cart. Needless to say, it was an unsuccessful attempt.