Florida Manatee Lover Gary Stone Arrested for Harassing Sea Cows, Possessing Turtle
After many warnings by the Florida Fish and Wildlife Conservation Commission (FWC), Gary Stone, 68, was arrested on Wednesday for felony charges of disturbing turtles, continuously harassing manatees and illegally possessing a juvenile loggerhead sea turtle in 2019.
When officers searched Stone's Saint James City, Florida home on May 21, 2020, they found upwards of 88,000 pictures and videos with Stone and the manatees, according to the Fort Myers News-Press. The imagery showed Stone interacting with the manatees closely, often touching them with his hands or feet while talking to them. Stone confirmed all the videos and images were his.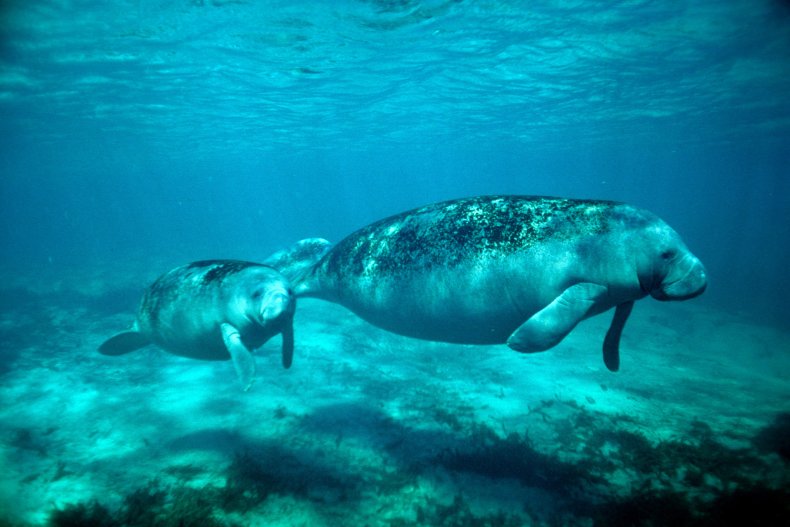 Stone shared many of the recordings on his personal social media. He also engaged with a local Facebook group, Pine Island Prospect. Pine Island, the area Stone made his manatee excursions, is off the coast of Florida.
In one of the videos, Stone was talking to a manatee with his bare foot in the water, petting the animal.
"I'll give you more scratches, yes I will. That's my boy," Stone said.
Stone told investigators he was conducting unofficial research. After obtaining Stone's digital data in a second warrant, officers found there were no official research papers or data gathered by Stone.
He was then asked if he ever attempted to acquire a permit by the U.S. Fish and Wildlife Service.
"No, I don't want them, I don't need them. I am retired, I don't need to do formal research where I am associated with a university. I do informal research, I am retired, I don't have to, you know, have any supervision over informal research." Stone said.
Stone was well known in Lee County. Previous to the arrest, the FWC had received several complaints over the years about Stone's close contact with the manatees. He was warned several times but did not comply.
"G. Stone's manatee activities and interactions of petting, touching, rubbing, providing access to fresh water, barnacle removal, swimming with and interacting with during mating are directly harmful by disruption of manatee natural behavior due to human presence," Denise Boyd, FWC Research Associate of Marine Mammals told the Fort Myers News-Press. West Indian manatees, the ones often found in Florida, are on the endangered species list and are under the Marine Mammal Protection Act.
On the FWC's website, there are many rules that Stone disregarded in his direct contact with the manatees. The top three rules listed are, "Look, but don't touch the manatees," "Do not pursue or chase a manatee," and, "Never poke, prod or stab a manatee with your hands, feet or any object."
Stone is currently in the Lee County Jail on $10,000 bond.
Newsweek reached out to the Lee County Sheriff's Office for comment.