Florida Man's Funeral Becomes COVID Vaccination Event After Death From Delta Variant
A recently deceased Florida man's funeral turned into a hybrid COVID-19 vaccination and testing event.
Marquis Davis, 28, passed away from the virus on July 26 and was not vaccinated at the time, ABC News reported. Before his situation turned for the worse, Davis told his wife that he wanted to get vaccinated once he pulled through.
Davis's wife, Charnese, described her husband as a hard-working business owner and a loving father. He was also said to be an attentive family man all around, taking care of his siblings after their mother passed away in 2012.
Davis reportedly began to show signs of COVID-19 in late July, feeling short of breath and generally unwell prior to his diagnosis. He was quarantined at home but his condition worsened. Eventually, he was hospitalized.
"He was losing his breath just by getting up," Charnese said. "I was like, 'this is not normal, you need extra help.'"
It was later confirmed that he contracted the more infectious Delta variant of the virus that has been causing cases to surge all across the U.S.
Davis had reportedly been "adamant" about not getting vaccinated before his hospitalization.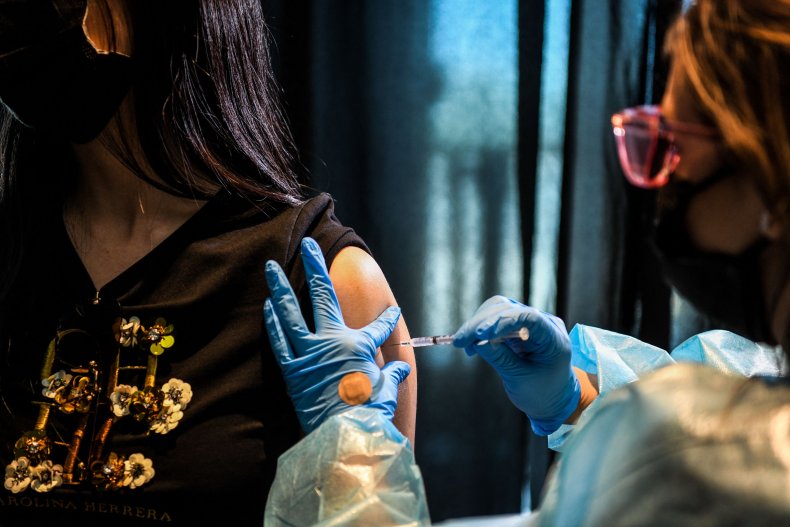 He was put on a ventilator while being treated at the hospital, but after less than a week, it was evident that he wouldn't make it.
"He was in the hospital," his wife explained, WFTV reported. "He said, 'Bae, I'm going to get the vaccine when I get out of here.' So he was going to get it. I was like 'Good, I'm so happy you said that, but it's too late.'"
Davis's wake and memorial were turned into a vaccination event after the idea was suggested to his wife by their church, Faith Temple Christian Center in Rockledge, Florida.
The event was held on Friday and will continue through Saturday afternoon, offering attendees the Pfizer and Johnson & Johnson vaccines.
"[Marquis] was 28 years old, had the rest of his life in front of him, and because of COVID-19, specifically this Delta variant, and he was not vaccinated, his life was cut short," Dr. R. Shaun Ferguson, the pastor of Faith Temple, said. "Our position as a church is let's get this cut. Let's do this. I don't want to see another person lose their life, period."
"It's a lot of younger adults my age who don't want to get it or they think it won't affect them," Charnese said. "But, it does affect you. This could have been prevented, so let's get vaccinated so it doesn't happen to you."
Florida is now considered to be the epicenter of the current surge in COVID-19, leading the nation in new cases by a wide margin. The Sunshine State has seen over 132,000 cases in the last week, according to CDC data, with around 56 percent of residents being fully vaccinated.