The mayor of Fort Lauderdale, Florida, has been asked to apologize after he claimed that the driver of the truck who hit a crowd at the Stonewall Pride Parade in Wilton Manors on Saturday was a terrorist.
Mayor Dean Trantalis witnessed the pickup truck drive into spectators at the parade. He described the events of the accident to a reporter for WPLG at the scene and said he believed the driver was aiming for Florida Congresswoman Debbie Wasserman Shultz, who was nearby when the incident happened.
"This was a terrorist attack against the LGBT community; this is exactly what it is," he said.
The reporter then asked Trantalis if he believed the crash was an accident.
"Hardly an accident. It was deliberate, it was premeditated and it was targeted against a specific person. Luckily, they missed that person, but unfortunately, they hit two other people."
Trantalis echoed his statement after learning that one of the people struck had died.
"What we saw was a terrorist attack on the LGBT community," Trantilis said. "This is disgusting; we will not stand for this. This is not going to happen in my city or any city."
Following the accident, the president of the Fort Lauderdale Gay Men's Chorus, Justin Knight, identified the driver as a member of the chorus.
"To my knowledge, this was not an attack on the LGBTQ community," Knight said in a statement to NBC.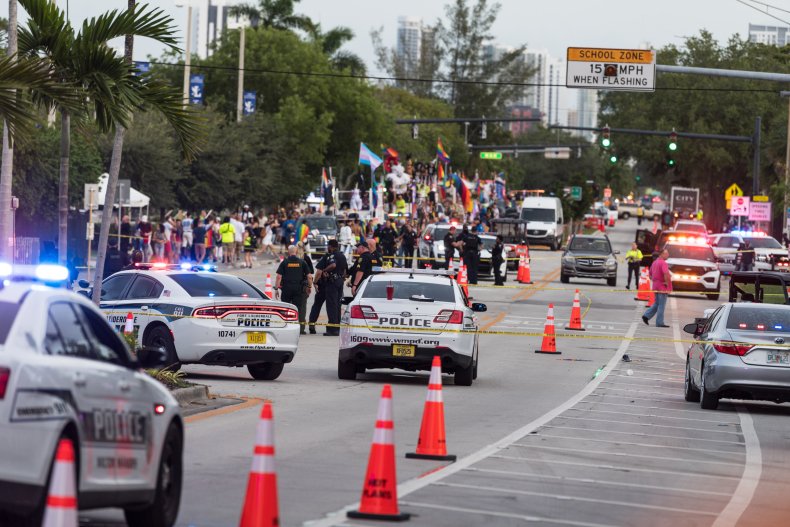 The Wilton Manors City Commissioner, Chris Caputo, tweeted shortly after the crash that killed one person, saying that he was "filled with sadness," but "it seems increasingly probable that it was an accident."
Criticism on social media aimed at Trantalis began after a video of him calling the event a terrorist attack was posted to Twitter.
"If the Mayor had waited even 15 minutes, then he could've made a reasoned statement. Video of the arrest showed the driver wearing a gay men's chorus t-shirt, which was more than enough to sew reasonable doubt about the intent of the driver," author and radio host Grant Stern said in a tweet.
"Would have been neat if the mayor waited for facts," journalist Carmine Sabia said.
"I hope @DeanTrantalis gets sued and then removed from office or defeated. Government officials shouldn't be able [to] accuse someone of *terrorism* so flippantly without facts," Claremont Institute Senior Fellow, David Reaboi tweeted.
Further criticism rang out on Twitter asking that the mayor retract his premature statement and apologize for labeling the incident as a terrorist attack. Trantlis has yet to comment on the situation.
Newsweek reached out to Trantalis, but did not hear back by publication time.