Florida Mayor Says His City Is at 'Breaking Point' Due to Coronavirus: 'This Is Scary'
Mayor Carlos Hernandez of Hialeah, Florida, warned on Monday that his city is at a "breaking point" because of the novel coronavirus pandemic, saying it is "scary" to see the surging number of new infections day after day.
"Now every day is over 10,000 [new infections]," Hernandez told CNN in an interview. "It's almost like the norm. State hospitals are at full capacity. I spoke to two or three large hospitals in our city late last night. Two of them have canceled non-emergency surgeries, and they're really, really at the point—it's a breaking point."
He went on, "It's a breaking point now, we're at a critical stage." The mayor said Governor Ron DeSantis should issue a statewide mask mandate and urged a united approach to combating the virus's spread. "You can't fix this by pieces," he said.
"It's gotta be 'work together,' and that's not happening right now, and that's the biggest problem I see," Hernandez said. The mayor also noted that he has "no idea" why DeSantis has not yet required Floridians to wear masks in public, saying it would be helpful for the Republican governor and President Donald Trump to set an example for their supporters.
Newsweek reached out to DeSantis' office for comment but did not hear back in time for publication.
Florida, the country's third most populous state, has had the highest number of new infections over the past seven days, averaging more than 10,000 cases a day. In the past week, the state has seen more than 80,000 confirmed infections, according to a New York Times tracker. On Sunday, the state reported a single-day increase of 12,478 cases, bringing its seven-day average to 11,462 cases per day.
In total, Florida has reported more than 350,000 cases since the start of the pandemic, the third highest of any state after New York and California, respectively. The Southern state has confirmed 4,981 deaths from the virus, and the daily positivity rate for new tests stood at about 12 percent over the weekend.
"I think fear is our enemy here, and I think that if we approach this with a steady resolve, I think we're going to handle it much, much better," DeSantis said during a Saturday press conference.
"As we look at what's going on with the virus, it is an enemy for us, for sure," the GOP governor said. "But so too is fear in terms of how we approach this."
On Twitter Monday morning, DeSantis highlighted how he had secured a large quantity of the drug remdesivir, which has been granted emergency use authorization by the Food and Drug Administration as a treatment for COVID-19, the disease caused by the novel virus.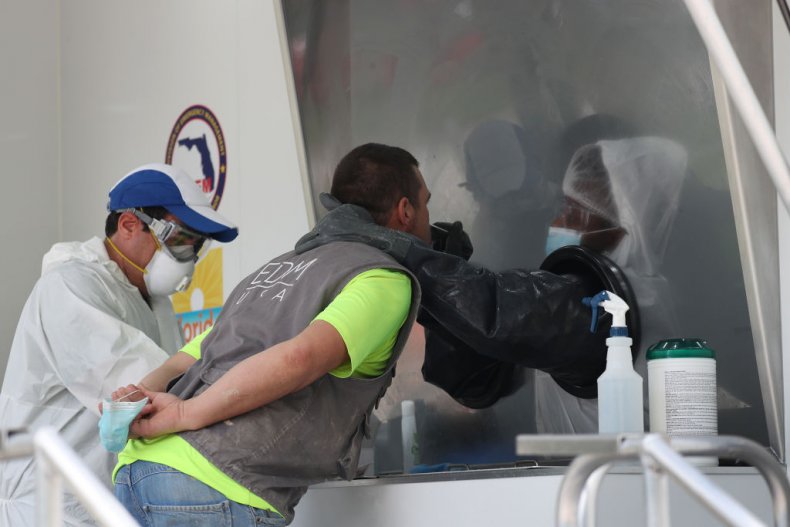 "In the last two weeks, my administration has helped secure & distribute nearly 50,000 vials of highly sought-after Remdesivir to hospitals caring for patients undergoing treatment for #COVID19," he tweeted.
"This Remdesivir supply will help more than 8k Floridians recover more quickly. We'll continue to implement our comprehensive strategy to support hospitals caring for COVID-positive patients, which includes securing more treatment and additional nurses," the governor wrote. "Together, we will succeed!"