Home Vandalized With Racial Slurs, Phone Lines Cut, Fire Found in Backyard
Updated | A Florida woman found racial slurs spray painted onto her home and cars, her phone lines cut and a fire in the backyard. Nakea Darisaw told WFTV that the vandalism likely happened Friday night or early Saturday morning.
Imprinted in red letters on Darisaw's home and surrounding area in the central Florida city of Belleview were the "n-word" and "go." The words were also found on the family's 2007 Cadillac Escalade and 2011 Gray Jaguar XJ, according to police, reported the Miami Herald. The woods behind her home were set on fire and her phone lines were cut, she wrote on Facebook.
The Marion County Sheriff's Office has a "criminal mischief investigation" underway as to why Darisaw and her family were targeted, the outlet reported.
In a public Facebook post on Monday, which has now been shared by over 120,000 people, Darisaw wrote that her "children have been terrified by this." The post also showed pictures from the incident and asked people to contact the Sheriff's office with information.
In a police report, the damage was estimated to be around $10,000. It was noted that the victim told police that she did not have problems with neighbors or enemies, according to the Miami Herald. A GoFundMe page for the family has raised nearly $4,700.
On Monday, church members helped Darisaw clean up the vandalism, painting and power washing the racial slurs from her home and vehicles.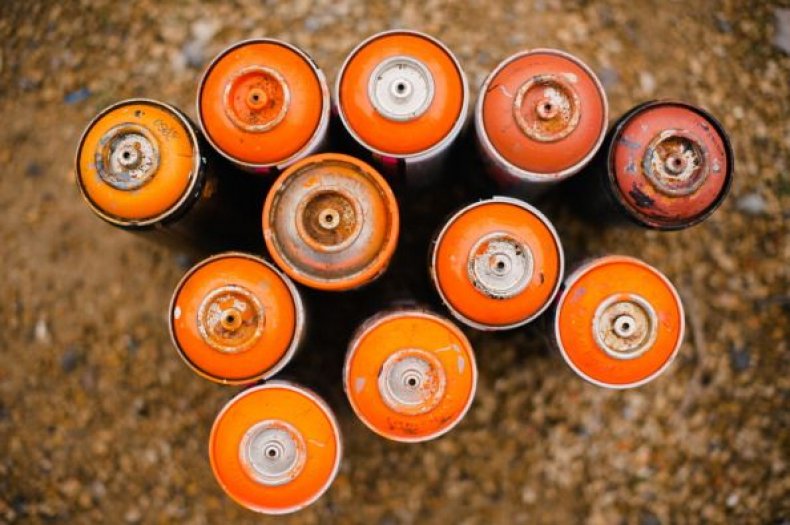 "I actually passed out, 'cause we have no enemies at all. We don't really know anyone here except the people we go to church with, so this was very overwhelming for me," Darisaw told WFTV.
Recently, Darisaw said sugar was put into her car's gas tanks, and that someone stole her four-wheelers and pressure washers, reported WFTV.
Despite the incident, Darisaw said she will continue living in her home. "I'm not going to be moving. No one is going to force me out of my house that I prayed for and sacrificed some many things to buy. I'm not going to move," Darisaw told WFTV.
"We are actively investigating this case, and we would greatly appreciate the public's help in finding out who victimized this family," Lauren Lettelier, the public information officer for Marion County Sheriff's Office, told Newsweek in a statement.
Additional information about the crime should be forwarded to Detective David Rasnick at 352-402-6022 or to the Crime Stoppers of Marion County at 352-368-STOP, Lettelier said.
Newsweek has reached out to Darisaw for comment.
This story has been updated to include a statement from the Marion County Sheriff's Office. ​