Florida Mother of 5 Killed in Gas Station Explosion; Her 2 Children Survive
A mother of five pumping gas in Palm Harbor, Florida, was killed in a fire Wednesday after being pinned by a dislodged gas pump, as her two children escaped harm after trying to save her, authorities said.
The incident unfolded Wednesday afternoon at a Shell station at 3470 East Lake Road, the Florida Highway Patrol confirmed to Newsweek.
Authorities said a 66-year-old woman backed her sedan into a pump, knocking it over onto the victim, who was gassing up her car and got trapped as the exposed fuel caught on fire.
"The victim suffered fatal injuries at the scene of the crash," the Florida Highway Patrol said in a statement.
East Lake Fire Rescue said firefighter crews responded after receiving multiple reports starting at 2:08 p.m. Wednesday.
"Upon arrival, firefighters found a gas pump and a vehicle engulfed in flames. The firefighters immediately extinguished the fire," East Lake Fire Rescue wrote in a Facebook post. "Our hearts are heavy as we share that one adult did not survive this incident. Our thoughts and prayers are with the victim's family."
The incident, the rescue team said, is being investigated by the State Fire Marshal's Office and Florida Highway Patrol. Newsweek has contacted the marshal's office for additional comment.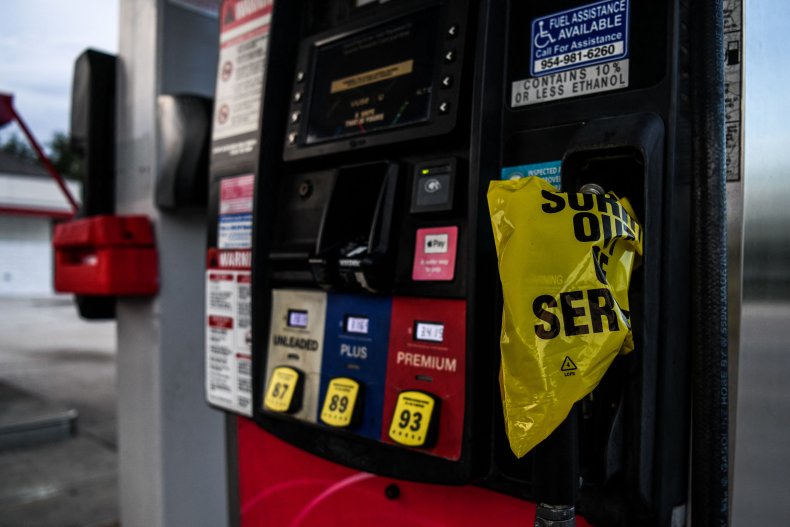 A GoFundMe appears to have been created for the victim's family. As of Thursday, the page had collected more than $28,000 in contributions. The page identified the victim as Shoi Caballes.
"This fundraiser is being set up because tragedy has struck the Caballes family," the donations page reads. "They have lost the wonderful mother of 5 amazing kids ranging from college to elementary school [who] was tragically killed in a[n] accident/fire at a local gas station in East Lake on 12/22. The family and everyone who knows the Caballes family is devastated by this."
Spectrum News said the Caballes family had also released a statement thanking everyone who has reached out to them for their "kind words and loving messages" as well as details for a prayer service.
The Florida Highway Patrol said in an update Thursday that someone near the tragic incident stepped in to help the victim's children, who were inside her 2018 Honda SUV at the time.
"Jared Pierson, a good Samaritan, helped the victim's two children try and fight the fire yesterday at the Shell gas station," authorities said. "When he saw the fire was uncontrollable, using the fire extinguishers located by the gas pumps, he moved the children away from the blaze."
The two children, an 11-year-old boy and 14-year-old girl, were in the car when it caught fire and exited it to "try and save their mother," the Florida Highway Patrol said.