Florida: Man Riding Motorcycle Died After Lightning Strike Shattered His Helmet, Causing Crash
A motorcycle rider in Florida was killed on Sunday when he was struck by lightning while driving on Interstate 95. The Daytona Beach News-Journal reported that the motorcyclist from Charlotte, North Carolina suffered the fatal crash after lightning struck his helmet.
Florida Highway Patrol Capt. Kim Montes told reporters that a Virginia State Police trooper had happened to see the accident while on vacation. He told law enforcement that he saw a bolt of lightning strike the man's helmet a second before the deadly crash.
The 45-year-old was pronounced dead at the scene at 2:11 p.m. on Sunday. His name has not been released to the public. Montes confirmed there were scorch marks left on the helmet which indicated it had been hit by lightning.
A Florida Highway Patrol spokesperson is cited as describing the helmet as shattered.
The highway patrol's troop D, operating out of Orlando, has tweeted an image of the biker's helmet. With two large gouges on the top, the helmet is seen lying on the wet tarmac.
"This is what's left of a 45 year old man's helmet after he was struck by lightning, while riding his motorcycle southbound, on I-95 in Volusia County this afternoon. Unfortunately he did not survive the crash," read the caption posted alongside the tweet.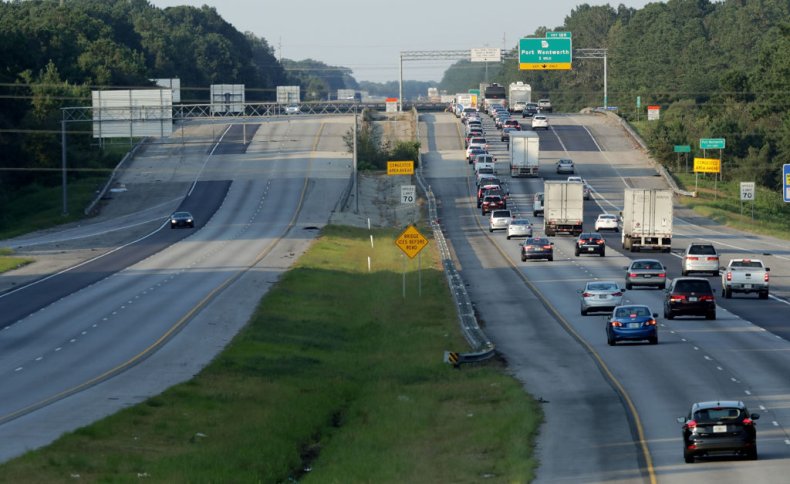 As a result of the traffic accident all three southbound lanes of the I-95 were closed between the highway's State Road 40 and U.S. 1 exits in Ormond Beach, Volusia County Sheriff's Office said. Law enforcement were able to reopen one of the lanes to cars just before 3 p.m.
Officers from the Ormond Beach Police Department and Volusia County Sheriff's Office were in attendance at the scene, responding to calls at the cordoned off area before investigations were handed over in full to the Florida Highway Patrol.
According to the National Weather service, on average 49 people are killed by lightning in the United States each year, based on data collected over the last 30 years. Hundreds more are injured by lightning strikes each year and some can suffer lifelong neurological impairment as a result of the strikes. Only about ten percent of people who are struck by lightning are killed, leaving 90 percent with various degrees of disability.
Between 2008-17, Florida had the highest number of fatalities related to lightning strikes, the National Weather Service reported. At total of 47 individuals were killed by lightning in the period of just under ten years. Texas had the second highest number of fatalities from lightning strikes with a total of 20.