Florida Movie Theaters Allowed To Reopen Despite Climbing Coronavirus Cases
Florida is reopening its strip clubs, movie theaters and indoor theme parks as the state experiences a spike in newly confirmed coronavirus cases.
On June 16, Florida reported 2,783 newly confirmed cases of coronavirus, its highest ever daily toll of new cases since it began reporting them on March 14.
Nevertheless, the state began the second phase of its reopening on June 5, allowing bars, taverns and pubs to operate at 50 percent capacity in all but three counties: Miami-Dade, Broward and Palm Beach. Local officials in those three counties issued their own reopening timelines.
ONE Gentlemen's Club, The Body, and Booby Trap are three Miami-Dade area strip clubs that received the county's approval to resume operations after submitting re-opening plans for limiting potential COVID-19 transmissions among employees and customers.
While the plans include the use of masks by employees and installation of hand-sanitizer next to their ATMs, some will require masks and gloves by customers who wish to watch performances less than six feet away, including for lap dances, according to the Miami Herald.
Booby Trap will require temperature checks of anyone entering the building—including performers, customers and staff—and will turn away anyone with a temperature above 100.1.
The indoor movie theatres will operate at less than full capacity and maintain six feet of distance between patrons by placing empty seats between individuals, although groups of five or under from the same households will be allowed to sit together at some theatres.
Patty Abril, Assistant Director of Communications for the Miami-Dade County Office of the Mayor told Newsweek that the Miami-Dade Police Department and the County's code enforcement officers have been monitoring thousands of businesses each week to ensure they're following reopening procedures. Business owners that don't comply could face a $500 fine, 180 days in jail, and a second-degree misdemeanor charge for failing to obey an emergency order.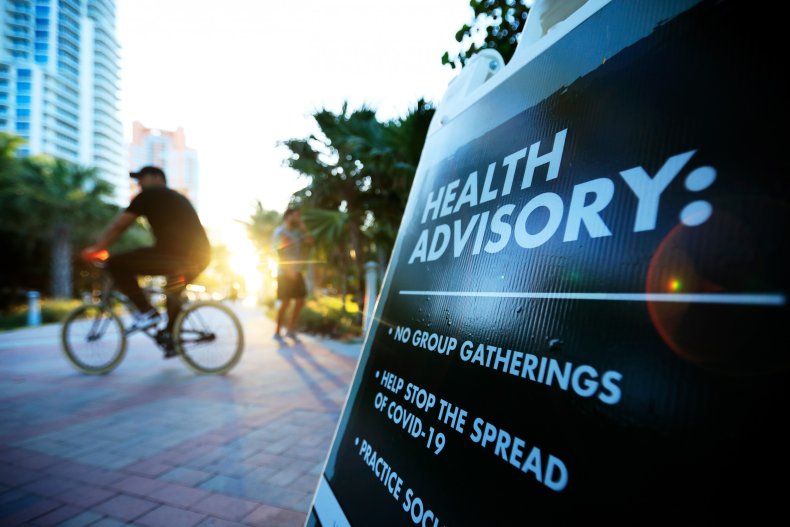 Florida's reopening plan requires all businesses whose employees have close-contact interactions with customers to use facemasks. Additionally, all businesses must provide easily accessible hand sanitizing or handwashing stations to customers and staff, check employees for COVID-19 symptoms, regularly disinfect any high-use areas and to seat customers six feet apart from one another while discouraging groups of 10 or more.
Mary Jo Trepka, an epidemiologist with Florida International University, told the Herald that the risk of contracting COVID-19 increases whenever someone is within six feet of another person for more than 15 minutes.
"People should be very cautious about going to places where there's other people, especially if they're gonna be within six feet of them and for a prolonged period of time," she said.
In early June, Republican Florida Governor Ron DeSantis attributed the state's rising case numbers to an increase in testing and reiterated his belief that state can continue to safely reopen in an effort to help its citizens and economy.
However, on Thursday, numerous Florida medical facilities have reported dwindling ICU bed availability, and several reported no availability whatsoever, according to the latest report from Florida's Agency for Health Care Administration (AHCA).
On Monday, a new U.S. death toll projection from the Institute for Health Metrics and Evaluation (IHME) at the University of Washington showed Florida is expected to be among the states worst hit by the ongoing coronavirus epidemic.