How a Cross Burning in Florida Sparked a Federal Investigation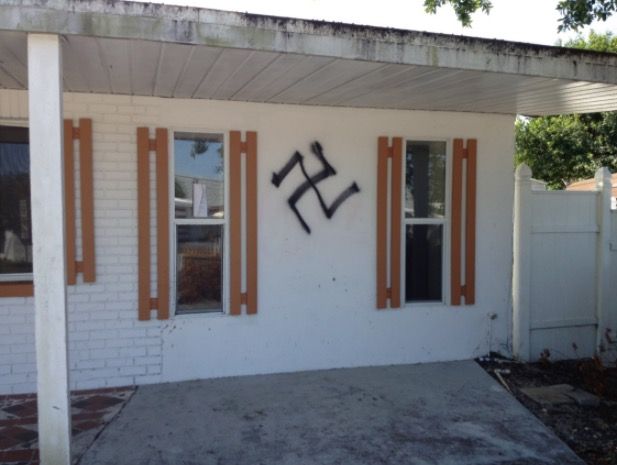 The trouble on Seward Drive began at least six months before the Halloween party that led directly to the cross burning. Starting in the spring of 2012, there was open hostility among some of the predominantly white residents toward the black people moving into one of the small homes on their block in Port Richey, Florida. Over the next half-year, that anger would spark ugly graffiti, a vicious assault and finally that classic symbol of racial intimidation—a burning cross—which brought federal investigators to this hardscrabble street on the Gulf Coast and criminal charges that ended with a guilty plea in March.
The white house at the east end of Seward Drive was empty in April 2012, and William Dennis, who lived next door, was upset that the next occupant of it could be black. He told a neighbor that somebody should paint a swastika on the vacant house to show that blacks weren't welcome. The next day, that neighbor noticed that someone had painted a black swastika on one side of the empty home's front door, and on the other side, "KKK" and "Move out niggers." (This account is drawn from court papers filed by federal prosecutors.)
About five months later, on September 1, a white woman rented the house across the street from the one tagged with the swastika. The woman, identified in court papers as K.L., was dating a black man, identified as D.M., who lived nearby and frequently visited her. Dennis didn't like that. He and another neighbor, Thomas Sigler III, would yell racial slurs, including "Fuck you, nigger," at D.M. when he was walking on Seward Drive. Several witnesses told investigators that Dennis and Sigler openly discussed their anger about D.M. being on Seward Drive and described their hatred of him as "an obsession."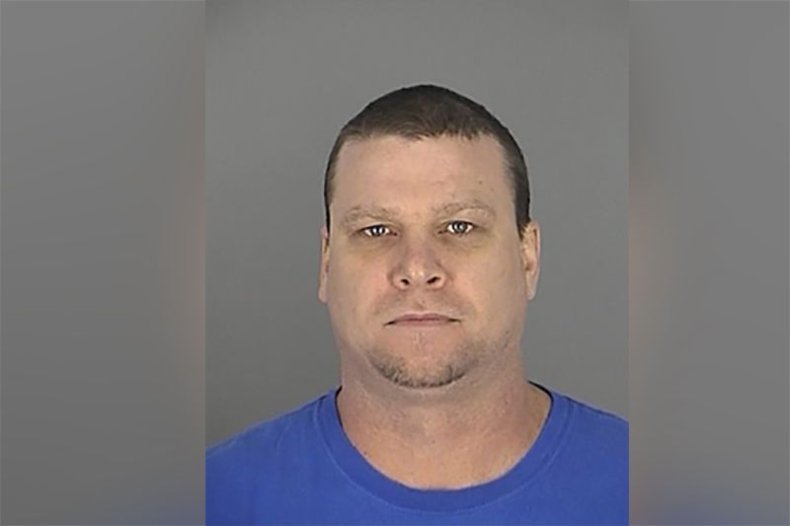 Their anger exploded in early October, when Sigler, a 6-foot-tall, 180-pound then-41-year-old with a cross tattooed on his left arm and a skull on the right, attacked D.M. and beat him unconscious, yelling, "I'm going to get you, you fucking nigger." Dennis watched this assault and even stopped a neighbor from helping D.M, saying, "Mind your own fucking business."
Despite that, D.M. moved in with K.L. Someone didn't like the two of them living together, and left a voicemail on October 30 for the home's owner, saying this was a courtesy call to make sure the homeowner's insurance policy was paid and up to date. The caller, who the owner said sounded drunk, said they were tired of D.M., and they were going to "burn him out."
Then came Halloween. That morning, Sigler flashed a pistol, told Dennis he was tired of having D.M. in the neighborhood and said, "Something is gonna happen tonight." That evening, a neighbor named John Staggers hosted a Halloween party in his driveway, where Sigler and Dennis got worked up over D.M. and developed a plan. Sigler asked Staggers for some wood and was led to a backyard woodpile. Using nails and tools borrowed from Staggers, Sigler and Dennis built a cross, then poured gasoline on it. With the help of Sigler's roommate, another white man, named Pascual Carlos Pietri, Sigler and Dennis carried the cross to 7209 Seward Drive, leaned it against the mailbox and set it alight.
D.M. and K.L. got a call from the local sheriff late that night, telling them to come home because a cross was on fire in their front yard. As firefighters and sheriff's deputies stood around her front yard, K.L. said she "couldn't believe the neighbors would go this far." D.M. was extremely upset by the cross burning, and afterwards he cried in the home of a sympathetic neighbor.
In the weeks after the cross burning, D.M. told that neighbor he was terrified of Dennis and Sigler, and "he figured some day he was just going to come out of the house, and he was just going to be shot."
A few months later, Sigler was arrested for raping an elderly woman. While he was held without bail at the Pasco County Jail, he regularly spoke to Dennis on the phone, using terms of affection like "brother" and "buddy" and ending their talks by saying, "I love you," according to recordings of those calls prosecutors planned to present at trial. Sigler didn't like the food in jail, so he let Dennis use his food stamps card (which the older man used to buy steak, hot dogs and chicken wings at a nearby Sam's Club) in exchange for Dennis putting money into Sigler's jail commissary account, according to the recordings of the phone calls and records from the Sam's Club where Dennis purchased the meat.
At some point, the FBI opened an investigation into the cross burning—civil rights violations are under its jurisdiction—and about four years after the incident, federal prosecutors finally filed charges against Sigler, Dennis and Pietri. (Staggers, the host of the Halloween party, died before he could face charges.) The three men were charged in August 2016 with conspiracy against rights, a federal charge used when the constitutional rights of the victim have been violated—in this case, the right to occupy a dwelling free from injury and intimidation because of race or color.
Pietri pleaded guilty and was sentenced to three years in federal prison. Sigler pleaded guilty and awaits sentencing. Dennis pleaded guilty last week and could face up to 10 years when he's sentenced in June. The plea agreement Dennis signed on March 22 described the crux of the conspiracy case. "Dennis knew that, historically, burning crosses has served to intimidate and threaten black persons," the agreement states. "Moreover, Dennis knew that the purpose of the racial slurs [and] the building and burning of the cross in K.L.'s and D.M.'s front yard was because the conspirators did not want D.M. living in the neighborhood."
The reason, according to the agreement: "because D.M. was black."