Florida Newspaper Reporters Detained With Zip Ties While Covering Tampa-Area Protests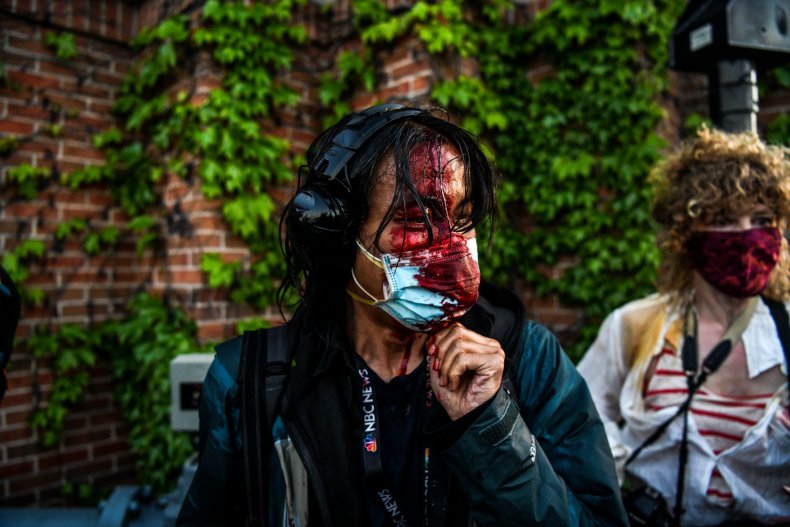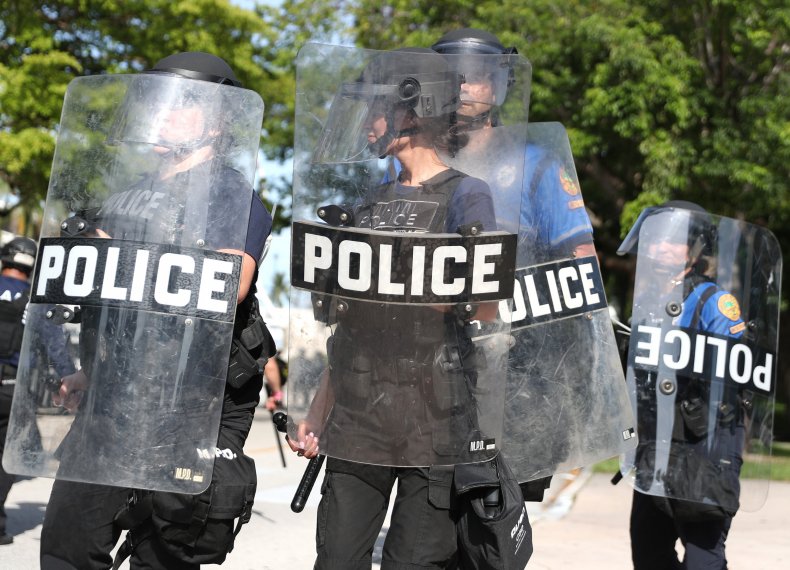 Police in Florida detained two journalists after placing their hands in zip ties as they attempted to cover ongoing protests over the death the George Floyd.
Two reporters from the Tampa Bay Times were held by police during protests late Tuesday night and early Wednesday morning, according to a report from the paper. Reporter Divya Kumar was placed in handcuffs, and then zip ties, by a Tampa police officer who said he "didn't care" that she was there to document the protests as a journalist.
"I don't know what I could have done differently," Kumar told the paper. "I identified myself as a journalist and tried to get out of there safely."
Tampa Police Chief Brian Dugan defended the detainment during a press conference, insisting that reporters covering the demonstrations "needed to get out of there." A city official later apologized to Kumar and the paper for the incident, calling it an "overreaction."
Newsweek reached out to the Tampa Police Department for comment. This article will be updated with any response.
Jay Cridlin, another of the paper's reporters, was also zip-tied and detained after being surrounded by law enforcement during a protest in nearby St. Petersburg. The city's police chief and mayor both called Cridlin to apologize hours later.
"We strongly object to these actions taken last night by law enforcement in St. Petersburg and Tampa," Tampa Bay Times Executive Editor Mark Katches said. "Journalists need to be able to do our jobs and report the news without being harassed, detained, intimidated or harmed by law enforcement."
Many similar incidents have been reported across the country since widespread protests began not long after the May 25 death of Floyd, a black man who died while being detained by police in Minneapolis, Minnesota.
Police have attacked journalists covering the demonstrations over 130 times, according to Harvard University's Nieman Journalism Lab. Multiple reports have described journalists being attacked immediately after they identify themselves to police.
Journalists have also been subjected to other kinds of attacks during the protests, including some from members of the public. There have been more than 233 attacks in total, according to the U.S. Press Freedom Tracker. Many have been captured on video and appeared on social media.
Some incidents have happened during live television broadcasts, including the arrest of CNN reporter Omar Jimenez and his camera crew during a protest in Minneapolis on Friday. Another incident involving a news crew in Louisville, Kentucky being shot with pepper balls happened during a live broadcast later the same day.
On Wednesday, The American Civil Liberties Union of Minnesota (ACLU-MN) announced it had filed a class-action lawsuit on behalf of journalists it says were targeted by police during the protests, in violation of the First, Fourth and Fourteenth amendments of the U.S. Constitution.
"Law enforcement is using violence and threats to deter the media from vigorously reporting on demonstrations and the conduct of police in public places," ACLU-MN Legal Director Teresa Nelson said in a statement. "We depend on a free press to hold the police and government accountable for its actions, especially at a time like this when police have brutally murdered one of our community members, and we must ensure that justice is done.
"Our community, especially people of color, already have a hard time trusting police and government," she added. "Targeting journalists erodes that public trust even further."