Florida No Longer Requires Negative COVID Tests for Restaurant Workers
Florida's Republican Governor Ron DeSantis signed an executive order Wednesday relaxing requirements for restaurant employees returning to work after testing positive for COVID-19.
Under a March 17, 2020 executive order, the state of Florida required two negative tests for a worker to return to the job after testing positive for COVID-19. The new executive order, however, modifies the original order, putting the responsibility on restaurants to "implement employee screening protocols pursuant to guidance developed by the Centers for Disease Control and Prevention."
The order follows a July update to the CDC's guidelines. Under the new guidelines, patients recovering from COVID-19 can stop self-isolating 10 days after the first appearance of symptoms, down from the previous recommendation of 14 days, providing that patients don't have a fever or show any new symptoms. The guidelines do say that business owners and managers should, however, "actively encourage employees who are sick or have recently had a close contact with a person with COVID-19 to stay home."
Though the CDC guidelines are more wide-ranging and apply to employees from various fields, the Florida executive order only applies to restaurant workers. In Florida, restaurants are allowed to remain open at 50 percent capacity providing they adhere to social distancing guidelines.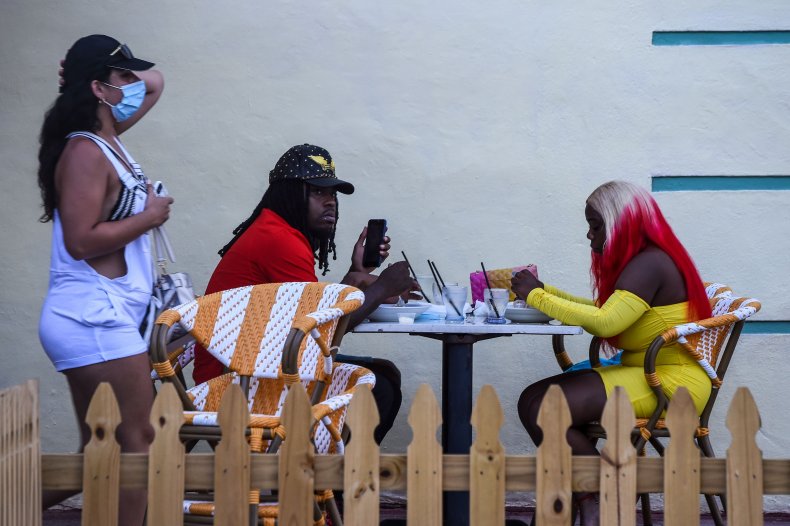 Restaurant owners and employees are mixed on the new order. Some welcome the ability to return to work more quickly, due to the loss of income.
"I think that this would help us out a lot," Chris Ponte, owner of Tampa restaurants On Swann and Olivia, told the Tampa Bay Times. "It would get the people out on the floor faster, while still being safe."
Other owners say they won't relax the requirement for two negative tests.
"We're not going to stop just because the state says so," Tim Petrillo, owner of 11 bars, clubs and restaurants in Fort Lauderdale, told the South Florida Sun Sentinel. "If you don't require a COVID test to go back to work, and he turns out to be contagious, and he infects the entire staff, I'm not going to risk my business, my health or my employees' health."
Making potential customers feel safe is another issue for some owners.
"Restaurants are going to have to be more transparent than ever to make people feel safe," Diego Ng, co-owner of Temple Street Eatery in Fort Lauderdale, told the Sentinel.
Some restaurants, including On Swann and Olivia, make employees go under daily screenings, including temperature checks before shifts. Ferrell Alvarez, owner of the Rooster & The Till restaurant told the Times he has his employees tested at a nearby clinic that can give results in 20 minutes. Alvarez pays for the tests, and says his company has spent about $1,000 so far. He's not planning on relaxing his system.
"For us, we're still sticking to our same (routine)," he told the paper. "Now that we've found a facility that can get you in and out in a day. We feel great about what we have in place."
Newsweek reached out to the Florida Restaurant & Lodging Association for comment.