On Friday, Palm Beach County Commissioner Melissa McKinlay suggested that mask wearing is needed across the state, as coronavirus cases continue to rise.
"For most of the public, I think mask wearing is probably something we need to be doing," McKinlay said while appearing on CNN's New Day.
When asked about the current situation in Palm Beach County and if she sees many people wearing masks, McKinlay responded by saying that, "it's about 90-plus degrees here and 85 to 90 percent humidity, it's summertime in Florida. You don't necessarily see the people wearing masks as they're walking on the street.
"What we really want to be focused on is when you walk inside and you go indoors and you're in closer proximity to other people, that's when we really want to see people wearing a mask," she added.
McKinlay's comments come as Florida continues to see a surge in coronavirus cases, as the state continues to move through their phased reopening plan. According to the Florida Department of Health, there have been over 2,000 confirmed cases in each of the past three days, bringing the state's total number of cases to over 85,000.
According to the state's department of health, there are also at least 3,061 coronavirus-related deaths.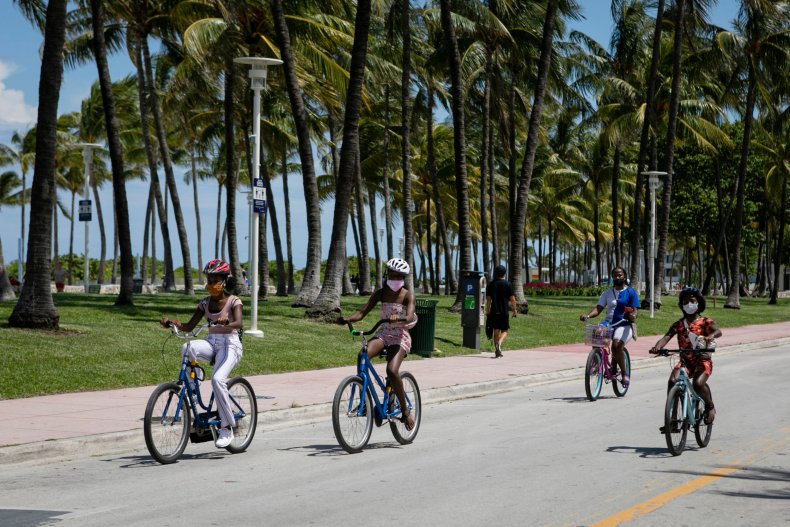 While New York remains the state with the most confirmed cases of the new coronavirus, experts believe that the surge in cases over the past week could make Florida the new virus epicenter in the U.S.
While speaking to CNN on Thursday, Dr. David Rubin, director of PolicyLab at the Children's Hospital of Philadelphia, stated that Florida has "all the markings of the next large epicenter of coronavirus transmission."
"That makes me very worried because, at the numbers they're now seeing, it's very easy to start doubling and lose control of the epidemic," Rubin told CNN.
In addition to Florida, a number of other states, such as California, Arizona and Texas, have also seen surges in coronavirus cases, sparking governors and lawmakers to begin discussing making masks a requirement.
On Thursday, California Governor Gavin Newsom ordered that masks should be worn in most places across the state.
"Science shows that face coverings and masks work," Newsom said in a statement. "They are critical to keeping those who are around you safe, keeping businesses open and restarting our economy."
In Arizona, Governor Doug Ducey told cities to decide their own mask rules, which prompted the mayors of Tucson and Phoenix to prepare a vote on mandatory face-covering requirements.
In New York, Michigan, Maine, Delaware and Maryland, statewide mask requirements are already in place.
Newsweek reached out to the Florida Department of Health for comment but did not receive a response in time for publication.