Miami, Florida Officials: Don't Swim, Fish After 720,000 Gallons of Sewage Spills Into Water
The Miami-Dade Water and Sewer Department issued a "precautionary advisory" on Monday warning against swimming, fishing or boating in part of Northeast Miami-Dade after a malfunction at a pump station released thousands of gallons of sewage.
The county agency said that 720,000 gallons of wastewater were released into a storm drain after "a mechanical failure at a pump station." The advisory warned residents not to swim, fish or boat in the affected area.
Sewage Spill Location, Map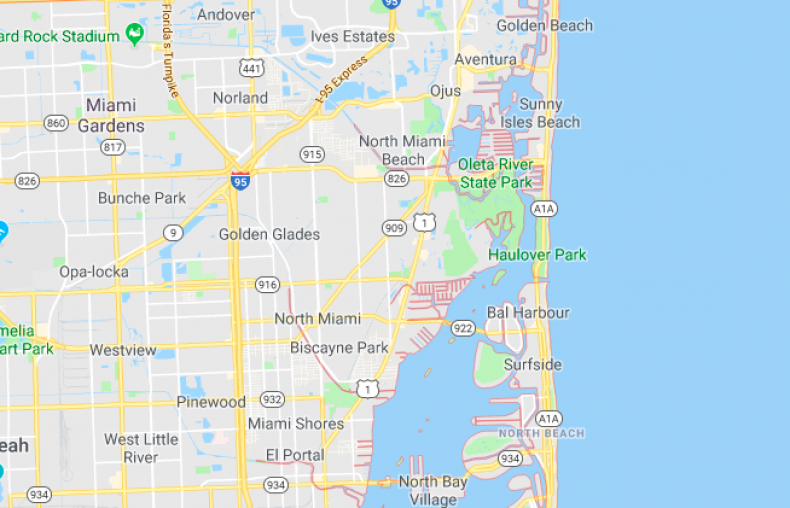 The advisory covered the area bounded by Northeast 163rd Street in the north; Haulover Inlet, including Haulover Beach, to the south; the Intracoastal Waterway to the east; and mainland Miami-Dade to the west, the Miami Herald reported. It also included beaches in Bal Harbour and Oleta River State Park.
Warning signs were posted in the affected areas, according to WPLG.
The water, which will be subject to testing by the Florida Department of Health in Miami-Dade and the Department of Regulatory and Economic Resources, will have to stay clean for two consecutive days before the advisory is lifted.
In January, sewage releases affected two other states.
An estimated 30,000 gallons of partially treated wastewater were released into the North Umpqua River in Oregon on January 21. Wastewater manager Steve Miles told KVAL that operators at the Glide-Idleyld Sanitary District discovered the spill and repaired the equipment malfunction within an hour.
A sewage release from a manhole prompted officials to close the coastline from south of the Coast Guard Pier to Fisherman's Wharf in Monterey, California, on January 29. A blockage at a main sewer line led to the sewage overflow from the manhole, the Monterery Herald reported.
County officials were unsure what caused the blockage but said that an estimated 1,500 gallons of sewage were released. Consumer Health Protection Services for Monterey County supervisor Marni Flagg told the Monterey Herald that the water "dilutes itself out rather quickly most of the time," and that a water sample would confirm "that it's not puddling right there by the outfall."
In 2018, 2.8 million gallons of sewage spilled into Monterey Bay from Monterey One Water's wastewater treatment plant in California.