Florida, Ole Miss Plan Social Justice Demonstration at Saturday's Football Game
The Southeastern Conference kicks off its football season this Saturday, and two teams from the old South have planned a social justice demonstration for their game. The matchup between Florida and Ole Miss comes after COVID-19 postponements and a summer of social justice protests that both swept across America.
Lane Kiffin, the first-year coach at Ole Miss, said this week that an on-field demonstration would be held by both teams. Kiffin would not elaborate on what the demonstration might entail, or when it would happen. He did say it would be memorable, though.
"We have an idea of what we're going to do. I think it'll be pretty neat when you guys see it," Kiffin said at Monday's press conference. "The schedule now, as long as it goes as plans, is to do something with Florida. Both teams are on the same page."
Kiffin did not say it whether or not the demonstration would be coordinated with its ESPN nationally-televised game, nor when it would happen. That means it's rather unclear if the demonstration would be seen live.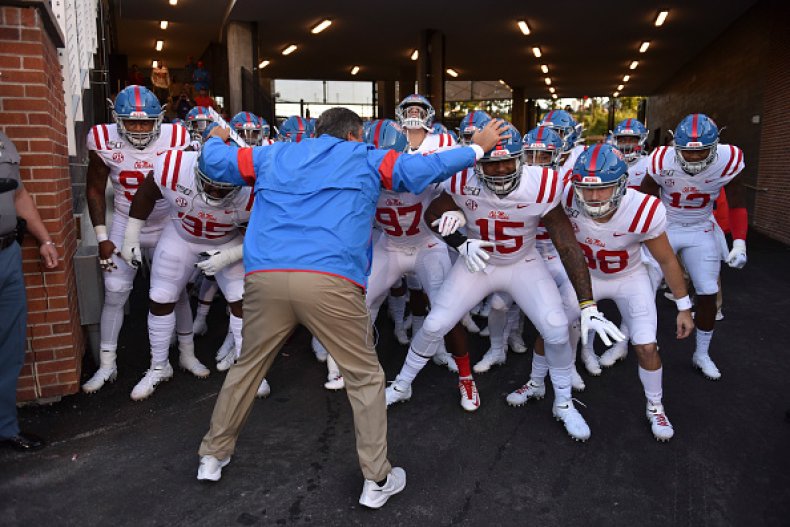 The Ole Miss squad has already played a part in social justice measures within their own state boundaries this summer. The team helped play a role with other state schools in abolishing the Confederate flag portion of the Mississippi state flag, and now the state is looking for a new symbolic flag.
More recently, the Ole Miss players sat out of a practice in August as a way to continue their trek to protest social injustice in the country.
Although similar protests have taken place in America over the last decade, they regained steam after the May 25 death of George Floyd, a Black man who died while in custody of Minneapolis police. A video shows former Minneapolis officer Derek Chauvin kneeling on Floyd's neck for nearly nine minutes, and Floyd can be heard saying, "I can't breathe." Those were Floyd's last-known words.
As protests sparked around the country against police brutality, Floyd's death and social injustice against people of color, news surfaced of the death of Breonna Taylor, a Black EMT worker who was shot by police during a warrant arrest.
On Wednesday, the Kentucky attorney general said none of the Louisville police officers would be charged in her shooting death. Later Wednesday night, two Louisville police officers had reportedly been shot during a night of protests.
As for the football games this weekend, the coronavirus shut down college athletics last spring, starting with the college conference basketball tournaments and then the NCAA March Madness tournament. All spring sports were also canceled, which included two important staples in the SEC—college baseball and spring football.
This weekend marks the fourth week of college football in America, but the first weekend by the SEC, which has worn the crown as the top football conference in the country. The SEC will play a 10-game, conference-only schedule. The Gators and Rebels matchup at 11 a.m. CT on Saturday will kickoff the weekend.
The Florida-Ole Miss matchup has been an intriguing game for lots of on-field stories, but the off-field stories have certainly taken center stage as well.