Florida Orders Schools to Open in August Despite Coronavirus Surge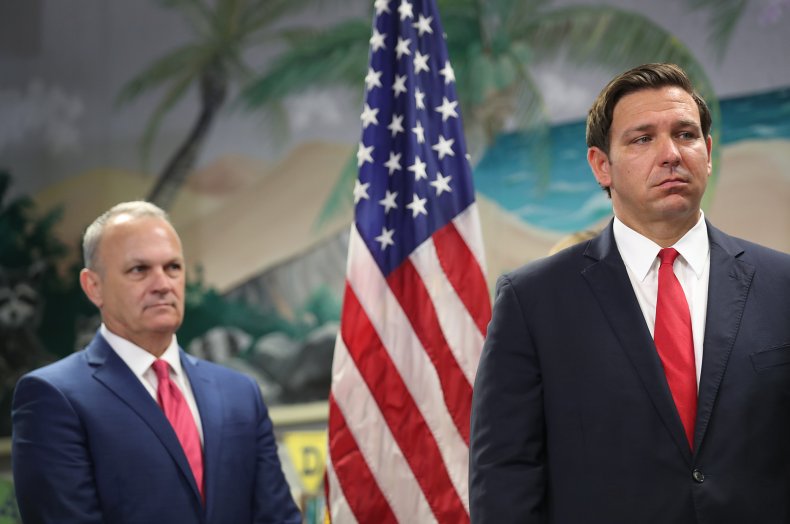 An emergency order issued Monday by Florida Education Commissioner Richard Corcoran mandates that schools must reopen in August, despite COVID-19 cases continuing to rapidly multiply in the state.
"Upon reopening in August, all school boards and charter school governing boards must open brick and mortar schools at least five days per week for all students," the order states.
State or local health officials could potentially override the order and keep schools closed to in-person learning if they declare reopening to be a public health risk, but they may have a difficult time making their case due to the state being open to the public for other purposes.
"Logically, I don't think they could say schools aren't safe if they are allowing people to be out in public," Department of Education spokeswoman Cheryl Etters told The Tallahassee Democrat.
"If locally they are not able to open, we will work with districts on the continuation of their Instructional Continuity Plan (ICP) or determining alternative options," she added.
Although state officials allowed schools to shift to an entirely online format earlier in the year, schools that wish to continue distancing learning programs in the fall will now be subject to tighter requirements, with plans needing approval by the state.
The order also mandates that schools cannot adopt a hybrid approach to reopening and must allow students to physically attend classes five days per week, barring an order from health officials.
Corcoran is an appointee of Florida Governor Ron DeSantis, who last month announced plans to reopen schools "at full capacity," citing concerns that the state's economy could be damaged if parents are forced to stay home due to children not attending school in person.
"In Florida, we're taking a smart, safe, step-by-step approach to re-opening, and this extensive data driven plan will ensure Florida students, educators, and families have the confidence and support needed to get students back to the classroom, which will in turn allow parents back into the workforce and allow Florida to hit its economic stride," DeSantis said in a statement announcing the plan on June 11.
"It is critically important that we continue to show compassion and grace as we make decisions to safely get students back in the classroom," Corcoran added.
Last week, DeSantis vetoed the entire $29.4 million budget for Complete Florida Plus, a program that helps educators facilitate online learning.
There were 6,336 new COVID-19 cases reported in Florida on Monday, with total cases numbering over 206,000, including more than 3,700 deaths. On Saturday, the state reported its largest ever single-day increase of 11,458 cases. Confirmed cases numbered fewer than 100,000 only weeks earlier.
DeSantis insisted that the spike had "stabilized" on Monday, despite continued concern expressed by public health experts. The Republican governor has continued to resist calls for mandatory face masks, which experts believe can lessen transmission of the virus.
President Donald Trump, who last week claimed that the pandemic was "under control" in the U.S. despite new cases in most states continuing to accelerate, also called for schools to quickly reopen on Monday, tweeting "SCHOOLS MUST OPEN IN THE FALL!!!"
Newsweek reached out to the office of DeSantis for comment.