Florida Passes $15 Minimum Wage, Becomes Eighth State to Do So
Florida just became the eighth U.S. state to raise its minimum wage to $15, thanks to the passage of Amendment 2.
The amendment passed with 61.3 percent of voters approving and 38.7 percent opposing.
Florida's minimum wage is currently $8.56 an hour. Amendment 2 will effectively raise the state's minimum wage to $10.00 per hour by September 30, 2021 and then increases it annually by $1.00 per hour until it reaches $15.00 per hour in 2026. The minimum wage will then go back to being adjusted annually for inflation.
California, Connecticut, Illinois, Maryland, Massachusetts, New Jersey and New York have all passed various legislation to raise their minimum wages to $15. All of the plans, like Florida's involve a gradual phasing in of the increased wage.
Supporters of Florida's amendment said it would lift millions of low-wage employees out of poverty, including women and people of color who disproportionately work longer in lower-wage positions. A September 2020 report from the liberal-leaning think-tank Florida Policy Institute said Amendment 2 could help bring 1.3 million households out of poverty.
Before taxes, a full-time worker earning Florida's current minimum wage of $8.56 would make just over $17,800 a year. Earning $15 an hour, the same worker would make $31,200, a 75 percent increase.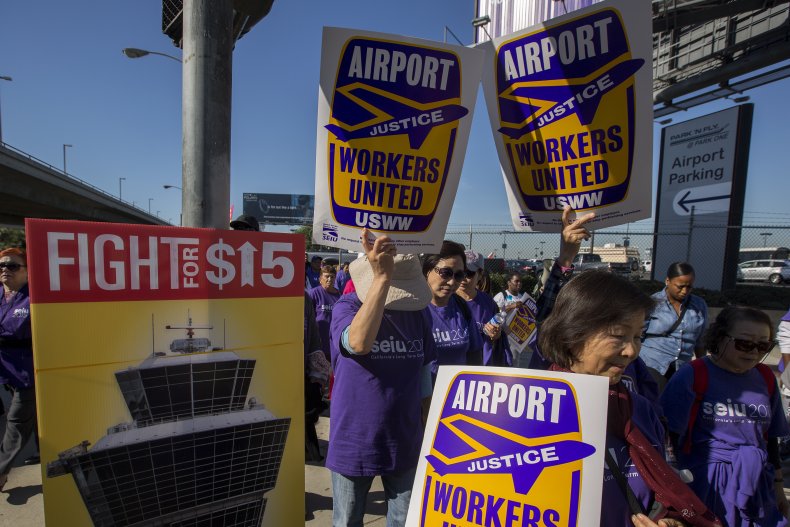 Supporters of Amendment 2 included the groups Democracy for America, the Florida AFL-CIO, Florida Business for a Fair Minimum Wage, the League of Women Voters of Florida and the progressive non-profit organization Organize Florida.
Opponents of Florida's bill claimed that it would endanger small businesses already placed under financial strain by the state shutdowns and reduced operating capacity caused by the ongoing COVID-19 epidemic.
Opponents of the bill included the Florida Chamber of Commerce and the Florida Restaurant and Lodging Association, whose board members include representatives from Walt Disney World, Olive Garden parent Darden Restaurants and McDonald's, according to The Orlando Sentinel.
"It will be bad for the workers, it will kill their jobs, it will hurt the amount of hours they can get, it will reduce their ultimate wages when it's all said and done, and it will close our businesses," said Republican Florida House Speaker Chris Sprowls.
In April 2017, Senate and House Democrats introduced The Raise the Wage Act of 2017, which would've immediately raised the national minimum wage to $9.25 and then gradually increased it to $15 per hour by 2024, but it didn't pass in the Republican-led Congress.
Correction: This article's headline originally stated that Florida was the fifth state to pass a $15 minimum wage. It is the eighth. Newsweek regrets the error.