Florida Pastor and Son Arrested In Capitol Riot After Congregant Provided Evidence to FBI
A Florida pastor and his son were arrested in connection with the Capitol riot on Thursday after a congregant provided evidence to the FBI.
James Varnell Cusick Jr., 72, and his son Casey Cusick, 35, both pastors at the Global Outreach Ministries church in Melbourne, face charges of knowingly entering or remaining in any restricted building or grounds without lawful authority; disorderly or disruptive conduct in a restricted building; and violent entry and disorderly conduct on Capitol grounds.
David Lesperance, a 68-year-old congregant of their church, was allegedly with the two pastors on January 6 and faces similar charges.
Following their arrest, the three suspects made their initial appearance in front of a District Court judge in Orlando on Thursday afternoon.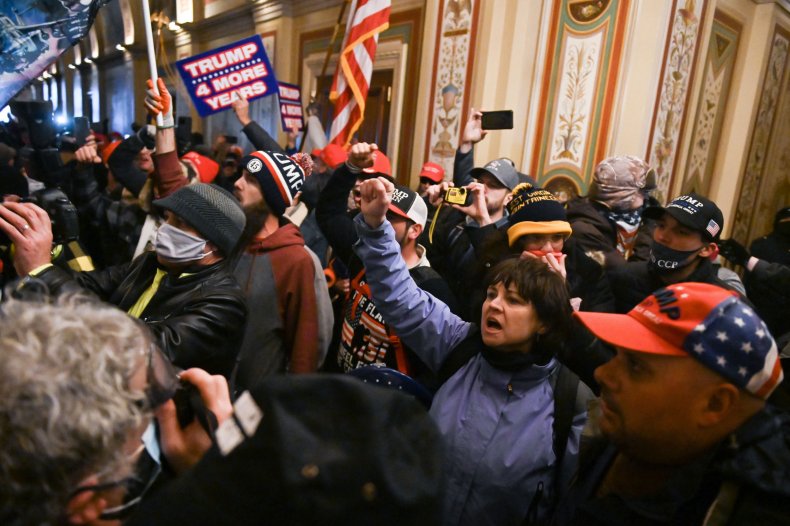 Federal authorities received a tip tying the two pastors to the Capitol riot from an anonymous individual in late January. In March, a second anonymous individual told authorities by telephone that Lesperance was also with them inside the Capitol building rotunda, according to charging documents.
The FBI Tampa Division's Joint Terrorism Task Force then conducted a voluntary interview with Lesperance, during which he admitted that his pastor was also present at former President Donald Trump's speech and the U.S. Capitol afterward. Lesperance admitted that "they" entered the Capitol building, but refused to name his pastor.
The FBI conducted a public records search which revealed Cusick Jr. as the founder of a church in Melbourne. A Google Maps search of Lesperance's Indian Harbour Beach residence showed that he was located just seven miles from Melbourne. Instagram photos shared on the public church account showed photos of church members, including Cusick Jr. and Lesperance, according to charging documents.
Federal authorities then gathered further evidence tying the two men to the Capitol riot, including cellphone data that showed their location near the Capitol area during the insurrection.
A search through law enforcement body-cam footage and CCTV images turned up images depicting the Cusicks and Lesperance inside the Capitol on January 6 with other rioters. Though Lesperance claims he deleted photos taken inside the Capitol out of fear of punishment, the FBI successfully recovered photos from his iCloud account that matched surveillance footage taken inside the building.
On Thursday, Attorney General Merrick Garland said that 500 individuals had been arrested in connection with the Capitol riot, including 100 people charged with assaulting a federal officer. Five people died in the insurrection, including one Capitol police officer.
Newsweek reached out to James Varnell Cusick for comment. This story will be updated with any response.