Florida Plane Crash: Three Dead After Two Small Planes Collide In Everglades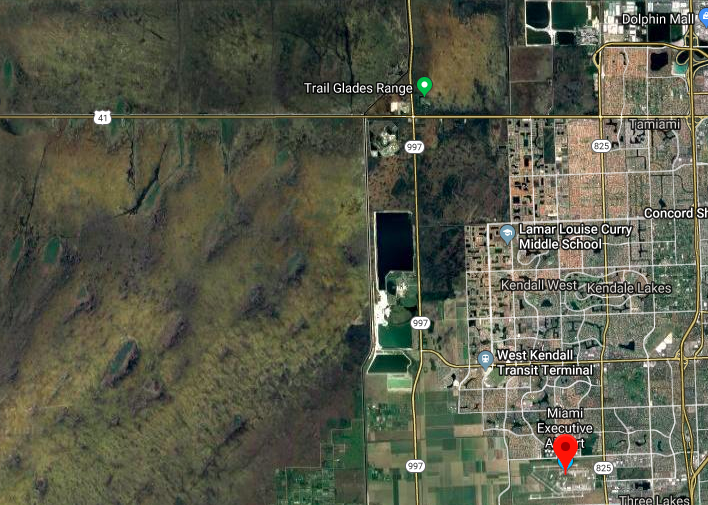 Three people are dead after two small planes collided in the Florida Everglades Tuesday, authorities confirmed.
The Miami-Dade Fire Rescue Department said Air Rescue and the Marine Unit Airboat responded to a downed small aircraft near 22700 Southwest Eighth Street around 1 p.m. local time. When crews arrived, they discovered a second aircraft down in the area, the MDFR tweeted.
Erika Benitez, a spokeswoman for the MDFR, told the Sun Sentinel that rescuers did not know initially if the incident involved one aircraft or if the fuselage had split into multiple parts.
Miami-Dade County Mayor Carolos Giménez confirmed to The Miami Herald that three people were killed in the midair collision. Giménez told the newspaper that the two planes belonged to the Dean International flight school, which operates out of Miami Executive Airport
"The FAA is investigating an aircraft accident involving a Piper PA-34 and a Cessna 172 that happened approximately nine miles west of Miami Executive Airport at about 1 p.m. EDT," the Federal Aviation Administration said in a statement. The FAA added that the National Transportation Safety Board will lead the investigation.
Southwest Eighth Street was closed in both directions from Krome Avenue up to Naples, Miami-Dade police said.
Dean International has been under investigation since another small aircraft crashed in May, WPLG reported. FAA records show more than two dozen accidents and incidents involving the flight school between 2007 and 2017.
Two people were hospitalized on May 3 after a Cessna 152 went down in the Everglades. The survivors were taken to Kendall Regional Medical Center to receive treatment for their injuries.
A year earlier, a Dean International student named Mark Ukaere died after he took a Cessna 152 without permission or an instructor. Ukaere, 29, allegedly told his girlfriend Mercy Akinyemi that his instructor never showed up, WPLG reported.
Another crash happened two weeks after Ukaere was killed. The Miami Herald reported that a small Cessna 172 plane crash-landed in Key Biscayne after having engine problems. The flight instructor and the student on the flight survived the crash.