Florida Police Department Will No Longer Send Cops to Calls About Drug Overdose and Suicide
A Florida police department is following others across the U.S. in its decision to no longer send officers to respond to several kinds of nonviolent calls, including drug overdoses and suicide reports.
The City of St. Petersburg Police Department announced in a press release Thursday that, beginning October 1, a Community Assistance Liaison (CAL) would respond to reports of a drug overdose, intoxicated person, mental health crisis, suicide crisis and disorderly juvenile, among others.
St. Petersburg Police Chief Anthony Holloway expected that about 18 to 20 people would be on the new CAL team, working shifts from 6 a.m. to 2 a.m. every day, he said during a news conference Thursday.
The department will retain a social service agency that will be in charge of supplying the CAL team members, who will respond to calls in regular clothing and will not be armed, Holloway said.
"Our citizens are asking for change," he said. "The city of St. Petersburg and our police department are ready for that change."
The department will monitor this new approach for one year to determine whether it is successful, the press release stated.
A police department spokesman referred Newsweek to Thursday's press release and conference.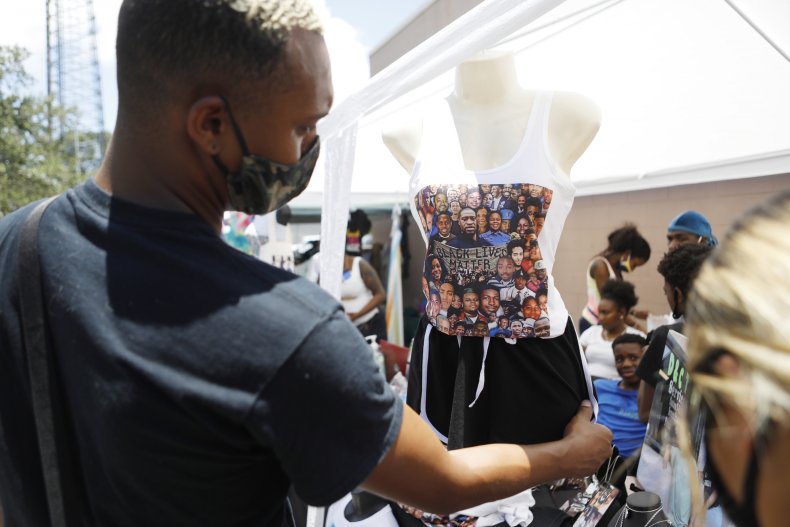 Both the city and its police department had already been thinking of changes that could be implemented within the department, but were spurred to action following the death of George Floyd, St. Petersburg Mayor Rick Kriseman told Newsweek.
Floyd, a Black man, died on May 25 while in Minneapolis police custody, an incident that ignited worldwide protests over police brutality and systemic racism.
A group of protesters informally known as the St. Pete Peace Protest has been organizing across the city every day for over a month.
Last week, the protesters had issued to the city a formal list of 11 demands, including cutting the police department's budget by 30 percent and banning weapons used by law enforcement officers such as tear gas and rubber bullets.
Among the list was a plea for the city to separate healthcare from policing by having separate institutions for calls involving mental health crises, drug overdose cases and domestic abuse cases, the Tampa Bay Times reported.
With the city's recent announcement, it would seem as though the protesters have at least partially achieved their goal.
Kriseman thanked protesters for speaking up against police brutality, which Kriseman called "intolerable," during Thursday's news conference.
"Those protesting have helped to shine a light on injustice and inequity in America, two things that all of us up here have been dedicated to correcting our entire lives and throughout our time in public service," Kriseman said.
The St. Petersburg Police Department had responded to approximately 12,700 of these types of nonviolent calls in 2019, out of a total of 259,800 calls for service that year, the press release stated.
The department's new CAL division taking over these calls will replace a previous commitment to add 25 new police officers to the department over the next two years, according to the press release.
While the decision will cause the department to lose $3.125 million in federal funding and $3.8 million in city funding that had been earmarked for the new hires, the city will instead use those funds to pay for the new division, the press release stated.
"The money we planned to allocate to our police department to hire more officers will now go toward establishing a response team consisting of community and social service professionals," Kriseman said Thursday.
The City of St. Petersburg joins several others across the U.S. in its decision to supplement the police department with social workers.
Some police departments in Oregon, Colorado, Texas and New York had already switched to a similar setup in recent months, while others in California, Pennsylvania and Minnesota have announced proposals to make changes.