Florida Police Dog Trained to Sniff Out Child Porn on Electronic Devices
A police dog in Florida named Ty has been trained to sniff out electronic devices that contain child pornography. The 2-year-old yellow lab with the Clay County Sheriff's Office tracks a certain odor that emits from both devices and SD cards.
Ty does not necessarily sniff for a "child porn" scent, but rather the chemicals that are embedded in SD cards and microchips. According to a report from News 4 in Jacksonville, the K9 is able to detect devices and cards that may have been hidden in secret places in case there's a raid.
"What Ty is trained on is a chemical odor that most of your electronic devices will have in them, and he picks up on that odor," said Drew Ford, a spokesperson for the sheriff's office.
As the sheriff's office investigates cases of potential possession of child pornography, they seek as much evidence as possible to defend their case. This means finding anything that could contain photos and videos of pornography, and they could be hidden anywhere.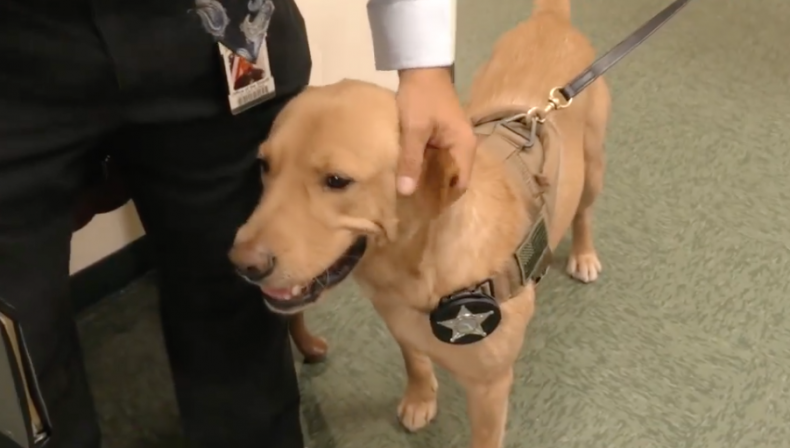 "Micro SD cards, thumb drives can be hidden in so many different places. Fake books with the pages cut out, you would never know that they're hiding a microchip or micro SD card in there," said Ford, who added they have found devices hidden inside curtain rods.
In a Facebook video posted by the sheriff's office, it shows Ty's handler walking the pup inside an office where an SD card is secretly hidden inside a metal filing cabinet. Ty indicates to his handler that he has found a device when he stops at the filing cabinet — being quiet rather than yelping or braking.
News 4 reported it went on the scene with Ty and his handler, who was unnamed since they are undercover. Ty trotted around the room and froze in a spot where he sniffed out a hidden device.
"What Ty is trained on is a chemical odor that most of your electronic devices will have in them," Ford said.
If law enforcement searches a house they believe contains child pornography and they feel they have looked everywhere, they then can bring in Ty, who can use his powerful olfactory senses to potentially find things that may have been meticulously tucked away.
These could be either small or large devices that could have been overlooked by investigators.
"You never know where criminals at this point will go to hide things that they do not want to be found," Ford said.
Ty serves a dual purpose as well. When he's not sniffing out devices to help cops track down bad guys, he is employed as a therapy dog for child victims.
"That dog is right beside that child, and that child feels comfortable petting that dog because he's friendly," Ford said. "He wants to interact with that person to make them feel comfortable."
A child victim who warms up to Ty could also warm up to law enforcement and open up to them, perhaps giving them more information to track down child predators.