Florida Police Officer Wearing QAnon Patch Greets Mike Pence
A Florida sheriff's office SWAT team member was pictured greeting Vice President Mike Pence while wearing a patch on his uniform referencing the QAnon conspiracy theory.
The police officer at Broward Sheriff's office was among the team in a picture tweeted from Pence's official account greeting the vice president when he arrived at Fort-Lauderdale-Hollywood International Airport Friday.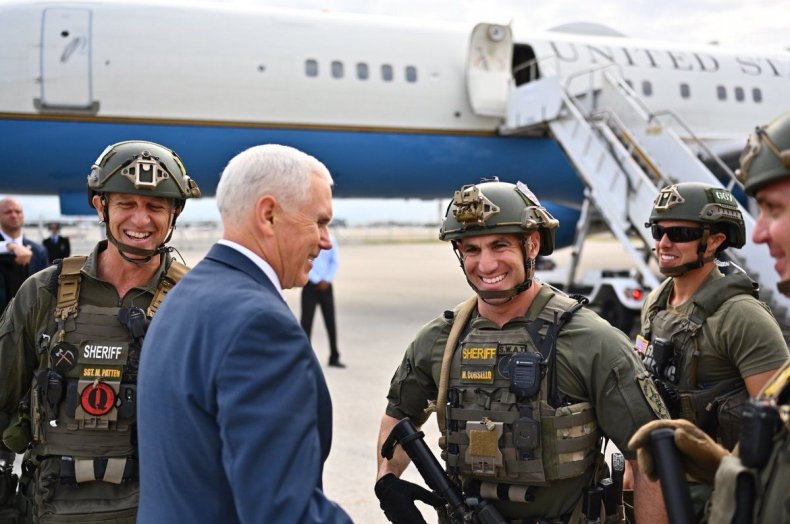 Jared Holt, of liberal media watchdog Right Wing Watch, was among the first to comment on the patch on the officer's chest, featuring a big black Q and the slogan "question the narrative."
Get your unlimited Newsweek trial >
The tweet featuring the picture of the officer has since been deleted, and a new message with pictures not featuring the patch sent out.
"Grateful for the courageous members of law enforcement who helped with my visit to Florida this afternoon. Thank you for everything you do to help keep our communities SAFE. Great to meet you!" said Pence in the tweet.
An official with the vice president's office told Buzzfeed News that the image was removed so as not to draw attention to the baseless conspiracy theory.
The QAnon conspiracy emerged on messaging board 4Chan, where a poster claiming to be "Q," a senior federal government figure, last year started publishing a series of cryptic "clues."
Get your unlimited Newsweek trial >
Supporters have spun an elaborate narrative out of the clues, claiming they show that President Donald Trump is poised to take down a child trafficking ring involving senior Democrats and Hollywood figures.
In recent months backers of the conspiracy have appeared at Trump rallies, holding up banners and wearing clothing referencing the conspiracy theory. Actor and Trump backer Roseanne Barr is among the high profile adherents of Q Anon.
The deputy in the picture was identified as Sergeant M. Patten by the name on his uniform.
Veda Coleman-Wright, the sheriff's office spokesperson, told the Miami New-Times the department was unaware that Patten was wearing the patch while meeting Pence.
"The patch is not authorized by BSO," she reportedly said. "This matter will be addressed immediately."
Florida Police Officer Wearing QAnon Patch Greets Mike Pence | U.S.